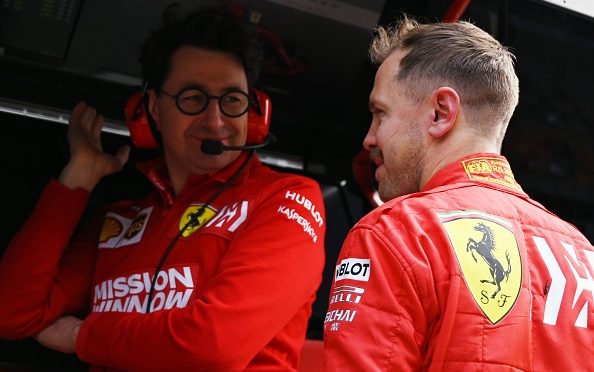 Binotto: Vettel's short and long-term goals don't match Ferrari's
Ferrari Formula 1 boss Mattia Binotto says Sebastian Vettel's departure from Ferrari is down to both parties not sharing the same short and long-term goals.
On Tuesday it was announced that Vettel would not be renewing his contract at Ferrari which expires at the end of this season. Both driver and team jointly agreed to part company after discussions over a new deal broke down.
It's understood the German was not keen to remain in an environment where his status wouldn't be valued as highly in contrast to team-mate Charles Leclerc, who outscored him during 2019.
Leclerc penned a contract extension earlier this year that will see him at Ferrari until at least 2024.
Despite 14 victories together, Vettel and Ferrari have been unable to clinch a world championship together, finishing runner-up in 2017 and 2018.
Speaking at a media event in Italy on Thursday, Binotto said, as quoted by the-race: "When taking these decisions it's because we are convinced we made the right decision.
"We closed a cycle with Sebastian, it's been six years he has been working in our team.
"I admire Sebastian as a person and as a driver. I hold him in great esteem.
"Over the last weeks, the world has changed, not only from an economic point of view but also from a technical and sporting point of view.
"There are challenges and obstacles ahead. We are laying the foundations for our future. And we want to have a specific perspective.
"We discussed it with Sebastian and we found out we didn't share the same short or long-term goals."
Vettel's replacement for 2021 will be McLaren driver Carlos Sainz, who starred in his debut campaign for the team finishing a career-best sixth in the standings.
Sainz holds a unique blend on experience with 102 grand prix starts to his name but will only be 26 when he jumps ship to Ferrari next season.
"Sainz is a great addition," Binotto said. "He's very smart, young, but he has participated in five seasons.
"He's a strong, reliable driver that has scored a lot of points and I believe he is a great driver to be paired with the pure talent of Charles, so that he can grow and win."
Aside from a new driver line-up, Binotto confirmed a limit for the 2021 budget cap was set to be agreed having initially held concerns it would be a detriment to the big teams.
"We're about to reach an agreement to $145m," he said.
"F1 has always had rules like any sport and rules are limits we set, and the best team is the team that within the list can create the best performing product.
"It won't limit technology and innovation, it's up to us to do our best and tackle these new challenges."
---