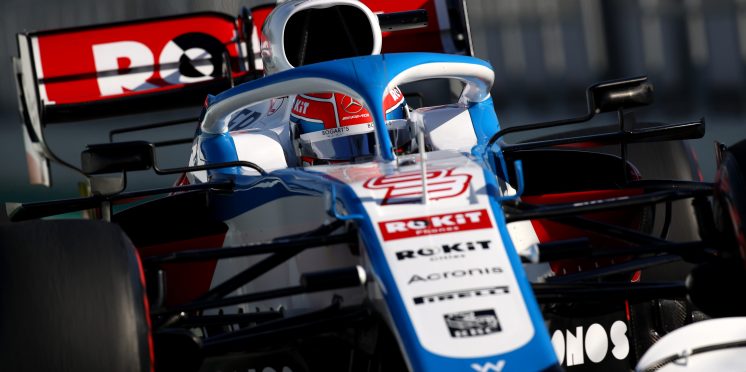 Russell: FW43 already 'much better' than last year's Williams
George Russell says this year's Williams has already showed signs that it is "much better" to drive than the preceding FW42 after the opening morning of winter testing.
Russell completed 73 laps around the Circuit de Barcelona-Catalunya to clock the sixth-fastest lap time by the end of the morning session.
The Briton's 1:18.168 is half a second quicker than his qualifying time at last year's Spanish Grand Prix, which would have seen him line up 15th on the grid, four places higher than his actual starting position.
It marks a remarkable turn of events for Williams, who 12 months ago didn't have its car ready in time to participate in the first two-and-a-half days of pre-season.
"I'd say definitely the general handling of the car is much better. From lap one today, I had confidence to push the car to the limit, whereas last year, it wasn't a nice feeling in the early laps," Russell said, as quoted by Motorsport.com.
"It was quite scary to drive actually last year in the opening laps, trying to build that confidence. Already that's better, but not always a nice car to drive is a fast car. So it's a laptime-based sport, and it doesn't matter how you get around the lap, as long as it's fast, that's what counts.
"It's been improved in that area, now we just need to see if we have managed to put more downforce onto the car to compete with the guys around me."
Russell's rookie season in Formula 1 proved challenging due to an uncompetitive car, as Williams finished dead last in the constructors' championship for the second year running.
But after the team's persistent on-track struggles last season, Russell made the point of how a trouble-free start to 2020 was a vote of confidence for everyone in the team.
"[It's] massively important. Last year was far from ideal, the team have done a really great job to achieve that," Russell added.
"The build quality of the car is a much better standard than last year. Things fit properly, the car looks better from the design perspective, so I think overall it has been a very positive morning.
"Everybody was a bit lost last year because they didn't know what to do as there was no car here. We're definitely excited for the new season. It was a character building year last year. I'm confident we can go racing this year and have a bit more fun than we did last year. That's what we're all looking for."
---