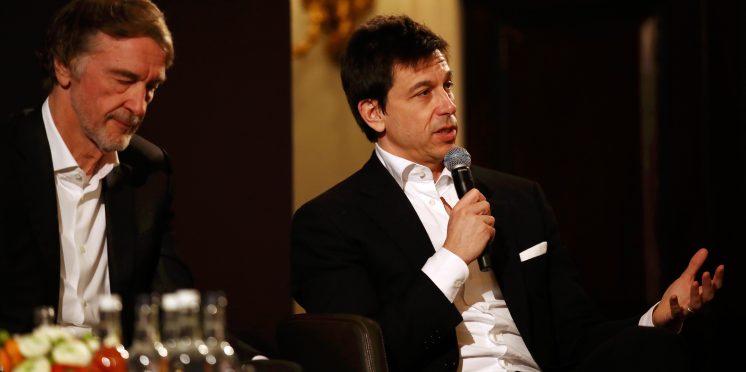 Mercedes to continue Hamilton talks, downplay 'nonsense' reports on F1 future
Mercedes will resume negotiations with Lewis Hamilton over a new contract at the start of the 2020 season, in what Toto Wolff describes as an "obvious pairing going forward".
Hamilton's present deal with the Brackley-based outfit expires at the end of the year, which has led rumours to circle that the six-time champion has held talks with Ferrari over a potential move.
But with Charles Leclerc's recent five-year extension, plus Max Verstappen's long-term commitment to Red Bull, Hamilton is expected to remain at Mercedes.
Having achieved five of the last six world championships together, Wolff is keen to sit down and continue discussions with the Briton.
Speaking at the unveiling of Mercedes' 2020 livery, Wolff said, as quoted by Crash.net: "I think it is the obvious pairing going forward.
"We want the fastest man in the car and I guess Lewis will want to be in the fastest car so there is an obvious mutual outcome.
"We travel around the world almost 10 months of the year and get on each other's nerves every other weekend and what we do over the winter is leave each other in peace.
"The last conversation I had with him was in the evening before the Christmas party, where we had a nice chat and said we would continue our discussion on his future once he is back from America and we start the season."
Mercedes is aiming to guide Hamilton to a record-equaling seventh Formula 1 drivers' title, and Wolff is hopeful it can provide him with a car capable of achieving the feat.
"I have great belief in the team to attract the best drivers and at the moment Lewis has proven he is the best current driver with his six titles," Wolff added.
"In the medium and long-term we hope we can continue to provide technology to the best driver and attract them."
Aside from this, recent reports suggested that Mercedes was set to hold crisis talks with parent company Daimler over whether it planned to continue its F1 programme after this season.
While it is yet to sign a Concorde Agreement, Wolff quashed the stories as "nonsense" and insisted sit-down talks are part of the process for any business.
"F1 has always been a great provider of headlines over the winter break. And by the sheer lack of racing results and the controversy on track, dropping a bombshell of a headline, always sells," he said, as quoted by Motorsport.com.
"And in that respect, I'm always surprised that there's just some lunatic out there that writes something on an internet page and it's being picked up, which was a complete nonsense story, which was put straight by the CEO of Daimler the following day. That is one part of the story.
"The other part is that with everything we do, we have to question is it the right activity that we deploy? It's whether it's in the petrochemical business, whether it's as an OEM in the car industry, or whether it's F1.
"We, as Daimler today, we see the advantages and the benefits that Formula 1 as a marketing platform provides to us and we see the data. And that is the underlying condition why we're doing it."
---