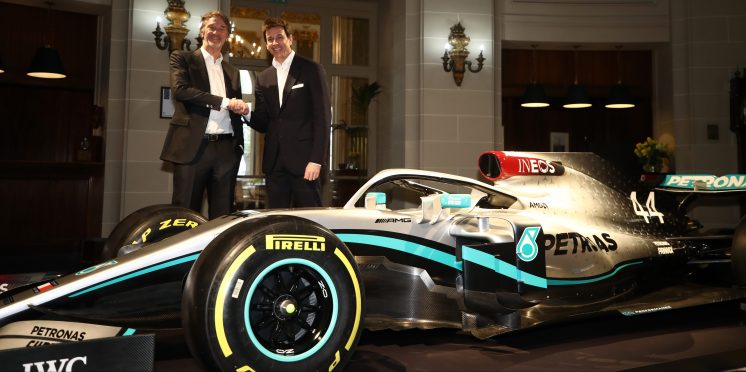 Mercedes reveals INEOS as principle partner, plus 2020 F1 livery
Mercedes has agreed an expanded partnership with INEOS from this season in a deal that will run for the next five years.
The German manufacturer revealed in December last year that it would be teaming up the Tour de France-winning cycling team, collaborating for performance purposes through the Mercedes-Benz applied science division.
INEOS, a multinational chemicals company, is owned by Sir Jim Ratcliffe, widely known as Britain's richest man.
At an event at the Royal Automobile Club in London, Mercedes confirmed it would be extending its ties with INEOS, who has now become a principle partner.
Speculation over the team's future post-2020 has been widely documented over recent months, but team boss Toto Wolff says the deal shows its commitment to the sport.
"We are in this for the long-term," Wolff said, as quoted by the-race. "This is what we do, we build race cars and we build road cars.
"Formula 1 is the halo platform for hybrid engineering, something that is not communicated enough because it was talked down at the beginning of the hybrid era. It's something we should put more emphasis on.
"We like the platform but at the same time we are in negotiations with the rights holders and things needed to be sorted out.
"But the partnership is something that indicates our wish to continue our successful journey in Formula 1."
Mercedes also unveiled a tweaked colour scheme on the W11, with a hint of red featuring on the existing silver livery to distinguish its major sponsors INEOS and Petronas.
It comes just four days before the car makes its on-track debut at Silverstone when drivers Lewis Hamilton and Valtteri Bottas complete a shakedown run.
---