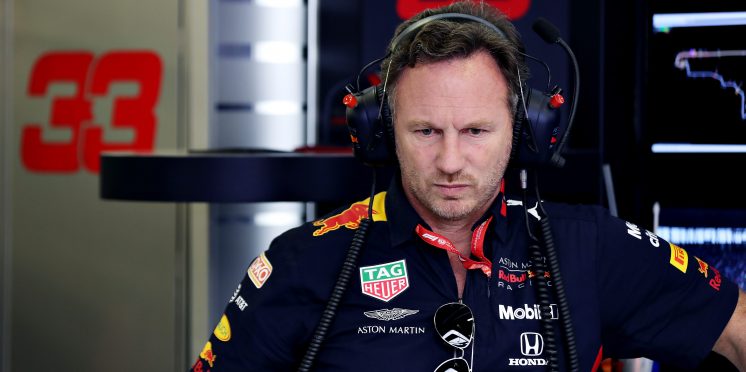 Red Bull 'better prepared' for 2020 than last five years
Red Bull is "better prepared" for the 2020 Formula 1 season than it has been over the past five years, according to team boss Christian Horner.
After a transitional year in 2019 with the arrival of new engine suppliers Honda, Red Bull is aiming to mount a serious bid to win its first title in seven years.
In order to do that, it has analysed over the winter period which particular areas have been a thorn in its side in pursuit of its ultimate target.
The energy drinks firm has sights firmly on being in a position to challenge for victories early in the season, having been held back by issues in car development in recent years.
With the RB16 set to break cover on February 12, Horner says changing its philosophy ahead of the season will hopefully allow it to avoid a slow start to the campaign.
"I think there have been factors in recent years – like an engine transition or a front wing change [last year]," Horner said at a Red Bull media event, as quoted by Motorsport.com.
"This year, we've changed our philosophy as well going into this year, being really earlier.
"With the stability of regulations, it is obvious RB16 is very much an upgrade and evolution of RB15. It's focused on addressing some of its weak spots and building on its strengths.
"I think with that continuity, the team is is really eager to go toe to toe with particularly Mercedes and take that challenge to them, because it is on those days that teamwork really counts: whether it is world record pit stops, whether it's getting the strategy right, or of course reliability."
Horner was been full of praise for Honda's rapid development on its power unit last year, but admits this now puts greater pressure on the chassis department.
"I think the big factor for us, to enable us to mount a challenge, is the power unit as well," he added. "And Honda did such a great job in each introduction of an engine last year.
"They brought more performance, more power, and it feels we're getting very, very close now to Mercedes. And that therefore puts then the emphasis on the chassis side of the team to come up with the right chassis.
"We know we've got the drivers to get the job done. So going into this year we feel better prepared earlier than we certainly have for the last five years."
While the goal of a championship is very much aligned in Red Bull's main priorities, Horner insists Mercedes is still the team to beat.
"We'll be looking to use all the lessons that we learned during the course of last year to take the fight to Mercedes and Ferrari," he said.
"But let's not forget they are the reigning world champions, so they will go into the season very much as the favourites.
"But I think with stability across all areas, across drivers and across technical staff, we built momentum in the second half of last year and I think that we're in a very good place to really take the fight to them this season."
---