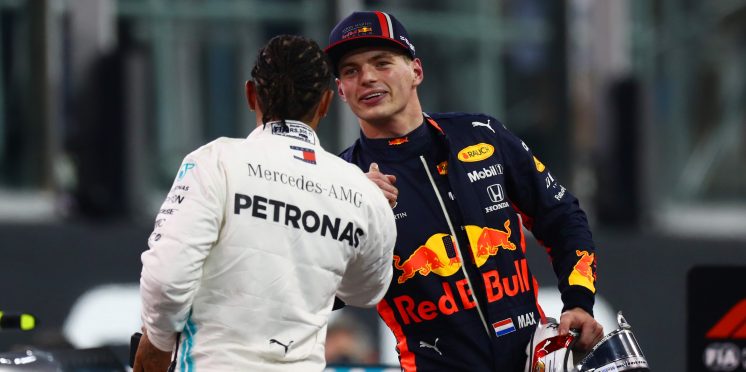 Verstappen: Hamilton 'one of the best but not god'
Depending on the performance of the RB16, Max Verstappen believes Red Bull can give him a real shot at challenging Mercedes for this year's title.
Verstappen recorded his best-ever season in Formula 1 in 2019, finishing third in the drivers' standings behind both Mercedes drivers of Lewis Hamilton and Valtteri Bottas.
Red Bull's first year with Honda power proved successful as Verstappen helped the team to three victories, but he is now firmly setting his sights on mounting a serious challenge for the 2020 crown.
"It's very car dependent, of course in F1," Verstappen said at a Red Bull media event, as quoted by Motorsport.com. "At least when you can put the pressure on them, of course, it's a lot harder for the guy.
"If you never really have pressure, then you can always drive it with 97/98 percent and you never make mistakes, or just have one [bad] weekend out of 21 or 22.
"So even if we start within two tenths, you know, you can really mount the pressure. And of course, I would like to start straight away there because then it's really on."
In order for Verstappen to claim his first F1 title, he will need to topple six-time champion Hamilton, who is out of contract at the end of the year.
Although he rates Hamilton highly amongst the sport's best drivers, Verstappen insists the Briton is not unbeatable.
"Lewis is very good, he is definitely one of the best, but he is not God," he said. "Maybe God is with him but he's not God."
Verstappen has suggested that if Red Bull can put Hamilton and Mercedes under pressure more often, cracks could start to appear in the Silver Arrows camp.
The Dutch driver reckons the energy drinks firm operates better than any of its rivals in high-pressure situations.
"It's under pressure situations like in Brazil, for example, but also some other difficult races like in Germany, that you can see that the team is really excelling compared to the others," said Verstappen.
"So I'm also looking forward to when we get that fight and we are really close, and I'm pretty sure that we can do better."
---