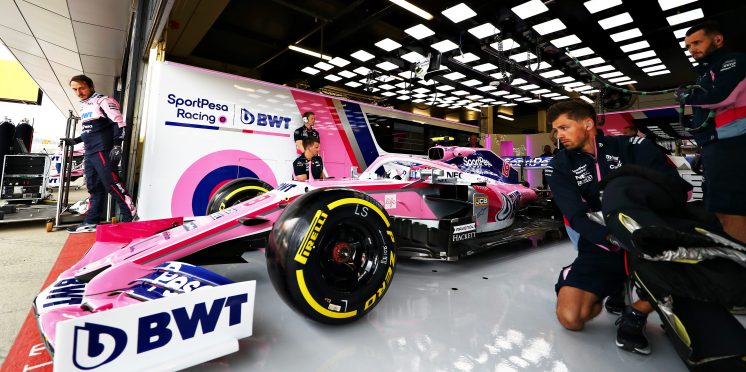 Racing Point to enter 2021 as Aston Martin
Racing Point is to be rebranded as Aston Martin in 2021 following the news that Lawrence Stroll has invested a stake in the British car manufacturer.
On Friday morning, it was confirmed Stroll bought a 16.7% share in the company for £500 million, a deal that will enhance Aston Martin's involvement in Formula 1.
It has been a primary sponsor of the Red Bull Racing Team since 2016, a partnership that will be terminated at the end of this season.
Documents regarding the takeover read: "Aston Martin Lagonda has entered into a legally binding termsheet under which the Racing Point F1 team will become the Aston Martin F1 works team with effect from the 2021 season.
"This agreement is for a 10-year initial term and Aston Martin Lagonda will receive an economic interest in the team."
This new forged relationship includes sponsorship from Aston Martin for four years from 2021, which can be extended depending on performance clauses.
Although it will leave Red Bull at the end of the year, an agreement between both parties was reached that involves the Valkyrie hypercar until the cars are delivered.
Commenting on his investment in Aston Martin, Stroll said: "On completion of the £500m of fundraising I look forward to working with the Board and management team in Aston Martin Lagonda to review and improve each aspect of the company's operations and marketing; to continue to invest in the development of new models and technologies and to start to rebalance production to prioritise demand over supply.
"I, and my partners, firmly believe that Aston Martin is one of the great global luxury car brands. I believe that this combination of capital and my experience of both the motor industry and building highly successful global brands will mean that, over time, we fulfil Aston Martin Lagonda's potential."
Andy Palmer, Aston Martin CEO, said: "Mr. Stroll brings strong and proven expertise in both automotive and luxury brands more widely which we believe will be of significant benefit to Aston Martin Lagonda.
"We have also announced plans to leverage a new motorsport collaboration with Racing Point to enhance the execution of the plan. I would like to thank Red Bull Racing, who we will continue to sponsor this year, for their partnership and support in us being able to say this today."
Racing Point's driver line-up is expected to be unchanged despite the team's rebranding, as Sergio Perez is contracted until 2022 and Stroll's son Lance is seemingly guaranteed a seat.
Stroll led a consortium in mid-2018 to save the Silverstone-based outfit from administration.
---