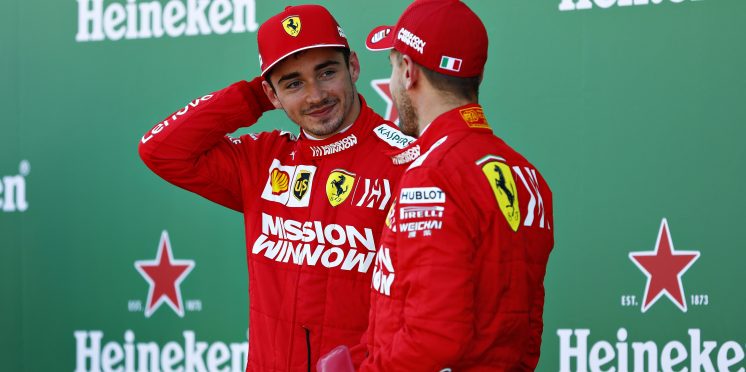 Leclerc: Still 'a lot to learn' from working with Vettel
Charles Leclerc insists there is still plenty for him to learn from Ferrari team-mate Sebastian Vettel ahead of his second year partnering the German.
Leclerc outperformed Vettel in his first season at Ferrari, registering more wins and points than the four-time world champion to finish one place ahead in the overall standings.
Their inter-team rivalry reached boiling point at the penultimate round in Brazil when the pair collided late in the race, causing them both to retire on the spot.
Speaking at the Autosport International Show in a fan Q&A, Leclerc said being pitted against someone of Vettel's calibre taught him the effort that needs to go into being a successful driver.
"I learned a lot, really a lot," Leclerc said, as quoted by Motorsport.com. "I mean, he's extremely professional, and he's going a lot into the details. And Seb, he's also a very nice person.
"We were working well together. Obviously, we've had our moments on the track, in which we've learned together, and hopefully it won't happen again things like in Brazil.
"But at the end, I think we are mature enough out of the car to work together and to try to develop the kind in the right way.
"But I think in the way he's working with the team and the engineers, I've learned a lot and I've still got a lot to learn.
"He's going a lot in the details, as I said, and things that I never thought will be helpful to the engineers he will say anything. Sometimes I'm just here listening for one hour what he has to say about the session. He's just very, very interesting."
Leclerc, who signed a contract extension to remain at Ferrari until the end of 2024, believes the forthcoming season will be crucial ahead of the budget restrictions in 2021.
The Monegasque says despite its on-track struggles last year, the team's confidence is high to bring the title back to Maranello.
"I think 2020 will be a very important year, where teams are going to invest a lot obviously because then the budget cap is coming in 2021," he added.
"I'll try to be as ready as possible for 2021 as I think it will be a big year. And hopefully we'll be working properly with the team to build the right car to be able to win to win the championship."
---