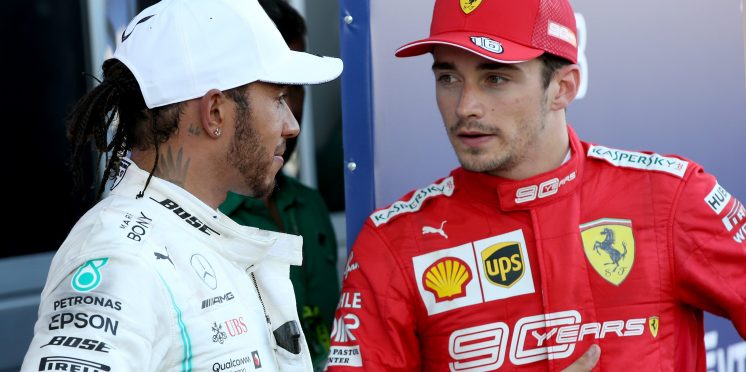 Leclerc would be open to Hamilton as Ferrari team-mate
Charles Leclerc says he would more than welcome Lewis Hamilton at Ferrari should the six-time world champion join the Scuderia in the near future.
Rumours have circled that Ferrari is interested in luring Hamilton to Maranello once the Briton's contract at Mercedes runs out at the end of next year.
Hamilton has already spoken of his desire to begin negotiations with Mercedes over a new deal, despite being heavily linked to Ferrari across the Abu Dhabi Grand Prix weekend.
The Italian team said it was "happy" Hamilton is on the driver market for 2021, and Leclerc insists he wouldn't be fazed by racing alongside a driver of Hamilton's calibre.
Asked if he would be open to Hamilton joining him at Ferrari, Leclerc said, as quoted by Motorsport.com: "Well, of course. At the end, we are in Formula 1 and we want to fight against the best.
"I've had a big opportunity this year to have Seb next to me who is a four time World Champion and I've learned a lot from him.
"You can always learn from this type of champion – so yeah, of course."
Leclerc's first year at Ferrari saw the Monegasque achieve two victories at Spa and Ferrari's home race at Monza, on his way to fourth in the drivers' championship once place ahead of team-mate Sebastian Vettel.
Hamilton was alleged to have met with Ferrari's chairman John Elkann for discussions over a future drive at the Italian outfit. The future of Mercedes boss Toto Wolff could be a key factor in whether he decides to continue with the team post-2020.
But Hamilton hinted that in light of his successful association with Mercedes since 2013, he would be keen continue on his path with the German manufacturer.
"Naturally, everything that happens behind closed doors is obviously always private with whoever it is you end up sitting with," said Hamilton.
"I think for many, many years I've never ever sat down and considered other options, because we've been just driving straight ahead into the path that we've been on.
"To be honest, I still think we're on that path and I think there's very little that's going to shift it from that.
"I know Toto is also looking at his options in terms of his future and only he will know what is the best thing for him and his family.
"So I'm waiting to see what he's doing with that.
"I love where I am so it's definitely not a quick decision to do something else, but of course I think it's only smart and wise for me to sit and think of what I want – if it is the last period or stage in my career.
---