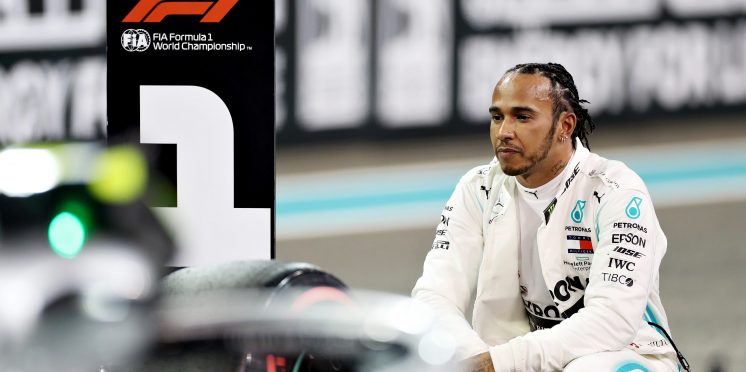 Hamilton: Pole-less drought felt longer than nine races
Lewis Hamilton admits his nine-race run without a pole position in Formula 1 felt longer than July's German Grand Prix when he last topped a qualifying session.
Despite holding the record for pole positions in F1 history, Hamilton endured his worst streak without a pole since joining Mercedes in 2013.
The six-time world champion secured his 88th career pole in Abu Dhabi, a landmark that leaves him 20 clear of nearest rival Michael Schumacher in the all-time list.
"It feels longer than the German Grand Prix," said Hamilton on his pole position, as quoted by Motorsport.com
"And if I'm really honest, I don't even understand how I got the German Grand Prix pole! It's been really hard because you come back from the break, and the competition's been spectacular, all the drivers have been doing an amazing job.
"I don't think my qualifying has been terrible, but it's just not been at my usual standard perhaps. Of course it is incredibly satisfying to know that we put the work in.
"Honestly [88 poles] it's really strange, it honestly feels like the first. I don't know why. It feels super fresh, maybe because it's been so long since earlier on in season."
Since he last finished fastest in qualifying at Hockenheim, Hamilton has been beaten by Ferrari's upward surge in performance, as well as Red Bull's growing threat over a single lap.
Having experimented with his one-lap pace duing practice, Hamilton said the less-than-perfect preparation had made his task tougher.
"It's not been the easiest in terms of qualifying throughout the year and it's been something we've just been chipping away at," he said.
"Yesterday was a little bit difficult, I had to re-centre myself for today. The best thing is when you get to Q3 and you pull out two good laps.
"I think my first lap it felt special, and then the second one obviously was an improvement."
---