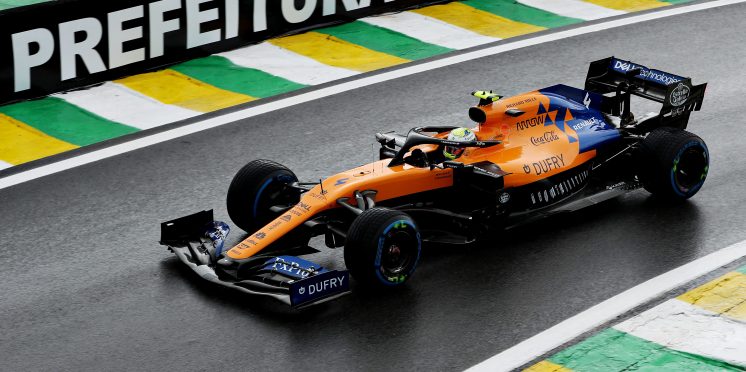 McLaren extends BAT partnership, hints at "quite special" 2020 livery
McLaren has announced an expanded partnership with sponsor British American tobacco that it says will lead to a "quite special" livery design in 2020.
Both parties joined forces at the beginning of this year on a multi-year sponsorship deal, enabling McLaren to run BAT's 'A Better Tomorrow' campaign to promote its electronic cigarettes.
Off the back of the Woking-based outfit securing fourth place in the constructors' standings in Brazil, BAT will now increase its partnership to become the team's primary sponsor.
As well as leading to a greater exposure on next year's car, BAT's involvement will extend further to support McLaren's 2020 IndyCar programme.
"We're pleased to announce our enhanced partnership with BAT after a successful first season together," said McLaren Racing CEO Zak Brown.
"BAT's transformation agenda remains central to this partnership, as does a shared focus on technology and innovation and we look forward to continuing our work together from 2020 and beyond.
"As we reach the end of the 2019 season, we thank BAT for its continued support."
Kingsley Wheaton, BAT's chief marketing officer, said: "We're extremely proud of our partnership with McLaren which has been going from strength-to-strength this season – whether it's increased awareness of our portfolio of New Category products, technology insights and expertise to support our R&D activities or using the platform to create excitement amongst colleagues internally, we are absolutely delighted with what our partnership has delivered in 2019.
"The McLaren team are fantastic to work with and it's great to see the team performing on the track. Our partnership is giving us a truly global marketing and innovation platform to accelerate our journey with our New Categories business, focused on creating a better tomorrow for our consumers, shareholders, society and employees.
"I am particularly excited about our plans to partner with McLaren for its return to the IndyCar series, after a 40-year break, next year. The 17-race calendar aligns very well with our geographical footprint and business priorities."
Brown revealed BAT's increased involvement will impact changes to the 2020 colour scheme, but stressed the orange papaya livery would remain.
"Our car [livery] design, which we will won't reveal until we unveil our race car in February, it looks quite special," he said, as quoted by Motorsport.com.
"I think you'll like what the race car looks like with the various categories that BAT use on the race car. So I don't want to spoil that debut. But I will say it will look quite impactful and be very noticeable on the racetrack.
"BAT is our big biggest partner but we will always stay core to our papaya. It is a kind of celebration of the history of McLaren and our colour palette."
---