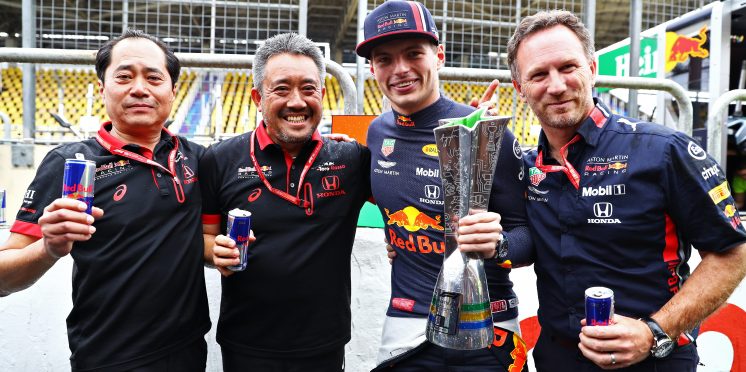 Honda commits to Red Bull and Toro Rosso engine partnerships for 2021
Honda will supply engines to Red Bull and Toro Rosso in 2021 after signing a contract extension to remain in Formula 1 in to the new regulations era.
The Japanese manufacturer's future was uncertain as it mulled over whether it would remain in F1 once its current deal expires at the end of next year.
After pulling the plug on its works team in 2008, Honda returned in 2015 with McLaren in a throwback to the successful partnership of the late-80s and early-90s.
But it proved to be an acrimonious tenure that failed to deliver the success it had expected, with both parting ways at the end of 2017.
This opened up the possibility to supply engines to Toro Rosso, who made the switch to Honda power last year.
A series of strong results persuaded Toro Rosso's sister team Red Bull to jump ship for 2019, the senior outfit putting pen to paper on a two-year contract.
It has proved an inspired decision with the new partnership netting three victories in Austria, Germany and Brazil, giving Honda its first win in F1 since 2006.
Honda's engine gains this season has also rewarded Toro Rosso with two podium finishes, finishing third at Hockenheim and second last time out in Brazil.
Max Verstappen's win coupled with Pierre Gasly's second place gave Honda a first one-two finish in 28 years.
"We'll be #PoweredbyHonda in 2021! The Team are delighted to confirm that we have extended our partnership to use Honda Hybrid power. @HondaRacingF1," Red Bull announced on social media.
Toro Rosso's statement read: "#PoweredbyHonda in 2021! It's great to confirm that @HondaRacingF1 will continue to supply the team into the new era of Formula 1."
Despite the one-year extension, it is unclear if Honda intends to remain in F1 in the long-term.
---