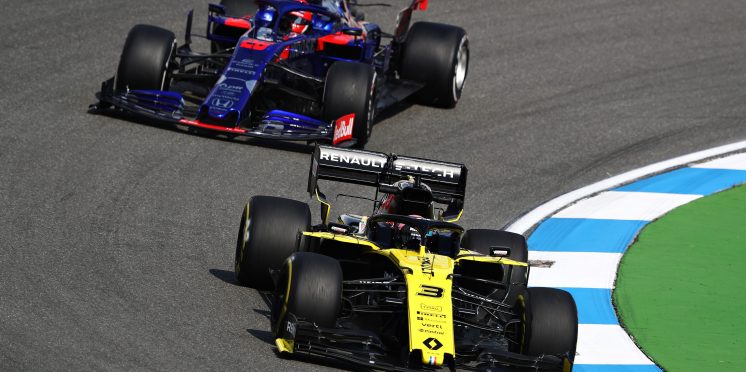 Ricciardo: Toro Rosso pressure won't allow Renault to rest in F1 finale
Daniel Ricciardo has welcomed the added pressure from Toro Rosso ahead of the Formula 1 season finale in Abu Dhabi as both fight for fifth place in the constructors' championship.
An unexpected podium finish courtesy of Pierre Gasly in Brazil has allowed Toro Rosso to cut the gap to Renault to just eight points with one race remaining.
The two outfits previously went head-to-head in 2017 finale where Nico Hulkenberg's sixth place was enough for Renault to leapfrog the Red Bull junior team in the standings.
Asked his thoughts on the impending battle going into Abu Dhabi, Ricciardo said he was relishing the threat that Toro Rosso poses.
"Game on," said Ricciardo, as quoted by Motorsport.com.
"I mean, obviously I'd love for it to be us than them [scoring a lot of points], but I like that it keeps pressure on us for the last race.
"It won't allow us to rest and gives us really something to fight for in Abu Dhabi. It's a track I really enjoy, I've always gone well there. So yes, ready to go."
Renault's 2019 campaign has been blighted by inconsistent form, but Ricciardo is hoping the RS.19 is suited to the Yas Marina circuit to ease the pressure this weekend.
"When I'm looking at the team's results last year, it's very similar to this," he said. "A lot of the circuits that I struggled on we seem to probably struggle as well on last year.
"In Abu Dhabi, I know Carlos had a mega race last year, so I'll take that and we'll go there with some positives."
With his team playing catch up, Toro Rosso boss Franz Tost says its mindset will "have to be clever" as Racing Point could still overhaul them.
"You never know what happens," said Tost. "Therefore be careful. We are only eight points behind Renault, which means also this [fifth place] is still possible. But we have to be clever.
"We have to set up the car in a correct way. Abu Dhabi is another track and hopefully we are competitive there as well."
---