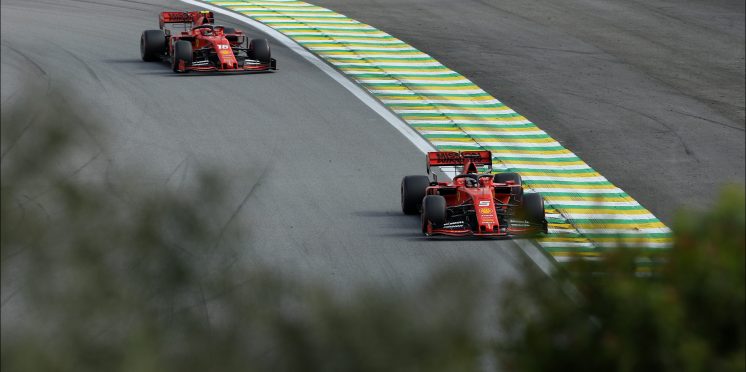 Ferrari to review 'silly' Vettel-Leclerc collision at Maranello
Ferrari boss Mattia Binotto has refused to apportion blame on either Sebastian Vettel or Charles Leclerc after their coming together near the end of the Brazilian Grand Prix.
Leclerc had fought back from 14th on the grid when he dived down the inside of Vettel at Turn 1, only for the German to attempt to re-take the position on the run to Turn 4.
With the use of DRS, Vettel was forced to the outside but a slight change in direction saw both Ferrari's tangle and suffer severe damage.
Although neither driver was cautioned by the stewards, Binotto felt the incident was a "silly action" that could have been avoided.
"It's not a matter of fining [them] or who we blame," said Binotto, as quoted by Motorsport.com. "I think that today they were free to fight. They knew that.
"The reason for that is we secured second place in the constructors' championship and they were battling for their own position in the driver's championship.
"[But] 'free to fight' doesn't mean to do silly actions, especially between two teammates, between the two Ferraris. For me, today was simply a silly action."
Asked to give his personal take on the events, Binotto said he wouldn't jump to a conclusion until the team had reviewed the incident back at its base in Maranello, but stressed the drivers should "be sorry" for losing Ferrari a double points finish.
"I have not reviewed it yet," he said. "I don't want to do it today. I think that when doing seems in the heat you may have the wrong conclusions.
"I heard both drivers, but there will be time together with them to discuss again what happened today, and there will be time for the team to analyse all the video and the data. Whatever will be the judgment, the most important thing is that we are disappointed and sorry for the team.
"First, the two drivers should be sorry for the team. Because it was a very small crash with big consequence. But that is a silly thing that should not happen."
Ferrari has tried in vein to manage its drivers with the use of team orders this season but it has often lead to a series of heated exchanges on and off the track.
Although it has often switched between team orders and the 'let them race' philosophy, Binotto doesn't regret implementing it this year.
"When we try to managed the drivers this season we have been criticised by doing it," Binotto explained. "When you are free to fight we may be criticised because they are free to fight.
"There is always a reason for what we are deciding to do and today was right to let them race."
---