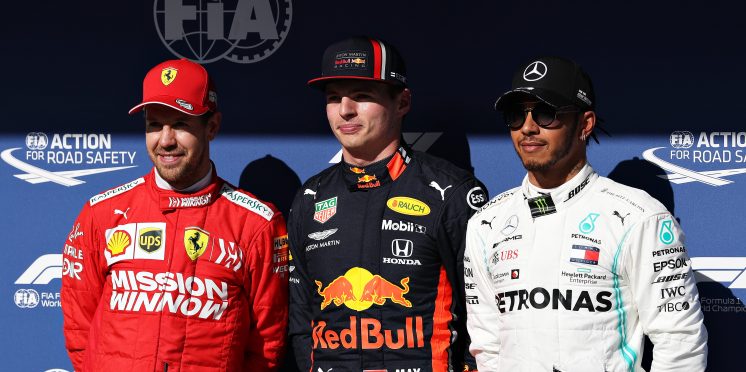 Vettel: Red Bull's straight-line speed a 'surprise'
Sebastian Vettel says the straight-line speed of both Red Bulls in qualifying for this weekend's Brazilian Grand Prix came as a "bit of a surprise".
Max Verstappen dominated all three segments of the one-hour session, claiming his second career pole position by just over a tenth of a second from Vettel in P2.
Following the recent engine saga, that saw Verstappen accuse Ferrari of cheating, Vettel joked that the Red Bull's pace on Interlagos' straights was "suspicious".
"Obviously there is no progress from one race to another, because it's the same engine I suppose," Vettel said, as quoted by Crash.net.
"I don't think they have introduced a new spec, so it was a bit of a surprise.
"Usually we've seen a lot of qualifying sessions and we were a bit faster than everyone in the straight, losing a bit in the corners, but today we were as quick or Max and Alex were as fast down the straights as us.
"That's about it, I don't know why. I know we didn't do anything different."
The German will line up on the front row alongside Verstappen for Sunday's 71-lap race, and admitted Ferrari were beaten "fair and square" having been tipped as favourites for pole.
"I was having a very good attempt in Q3, went a little bit wide at the final turn," Vettel added. "But I don't think I was the only one.
"I think Max's time was a bit far away so I think we have to admit we got beaten fair and square.
"[The balance] was getting better and better. I think we were a bit shy yesterday, more aggressive this morning which was a step forward and then in qualifying it seemed to go up and get better.
"But I think the track ramped up. It was good to get on the front row."
---