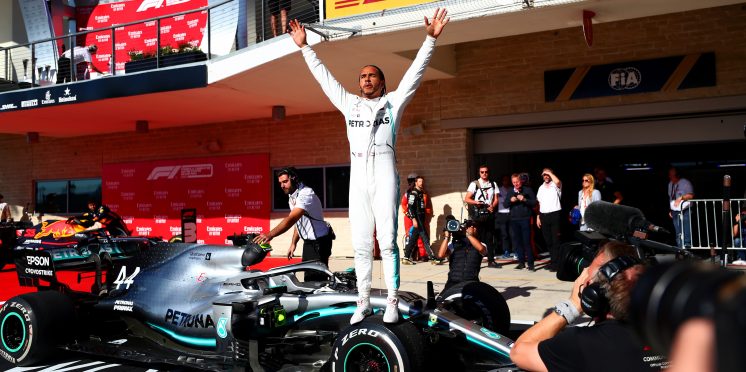 Hamilton says he won't 'sit back' in final two races of 2019
Newly-crowned 2019 Formula 1 world champion Lewis Hamilton insists he won't "sit back" in the final two races despite already wrapping up the drivers' crown.
Hamilton's second place in the US Grand Prix was enough for him to secure this year's title, the Briton's sixth in all that puts him just one behind Michael Schumacher's all-time record of seven.
In past seasons Hamilton has had a tendency to ease off once he's sealed a world championship, but has targeted a strong end to the campaign in Brazil and Abu Dhabi.
He is adamant there is still room for improvement as he goes in search for his first pole position since July's German Grand Prix.
"Usually the reflection comes at the end of the year when work finishes and you can just take a load off and just sit back and have a beer," said Hamilton, as quoted by Crash.net.
"I will be with my dogs, with my feet up and just only then you can have a moment to grasp how great a year it has been.
"In my mind, I'm just too competitive, so I'm thinking okay, we've got two more races to go, how am I going to do a better job, how am I going to improve in qualifying. There's two more qualifying to try and get pole, how am I going to see if I can potentially pull out a lap like I did in Singapore last year.
"How am I going to work it that I can be at the front of both of those. I'm always just looking to improve and I really love being in this sport. I'm so grateful to this sport for giving me a life and giving my life purpose."
Following on from winning the 2018 title with two rounds to spare Hamilton won both of the final races, the first time in his F1 career he'd triumphed after being crowned world champion.
Hamilton described 2019 as his "hardest" in F1 due to the loss of Mercedes executive chairman Niki Lauda and Ferrari's resurgence in the second half of the season.
---