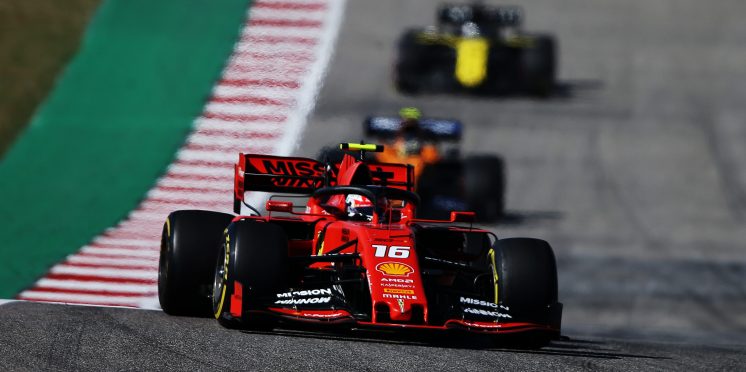 Binotto: Claims over performance loss in Austin 'completely wrong'
Ferrari Formula 1 team boss Mattia Binotto believes rivals' assumptions over why it endured an off weekend in Austin is "completely wrong" and "not good for the sport".
Prior to Ferrari's apparent performance loss at the US Grand Prix, the FIA issued a technical directive ahead of the event regarding fuel flow measurements at the request of Red Bull.
This request was targeting the Italian outfit's advantage in straight-line speed, with fellow teams questioning how Ferrari's engine has developed such an edge, particularly over one lap.
Following the release of the technical directive, the team finished over 50 seconds off race winner Valtteri Bottas, leading to Max Verstappen insisting this was linked to the FIA's clarification.
"I read and I heard a lot of comments this weekend about a technical directive and the impact on our cars," Binotto said, as quoted by RACER.com.
"I heard comments at the end of the race, which I feel very disappointing. As a matter of fact, I believe yesterday we have been very close to the pole position as it has been in the last races.
"I think that Seb could have scored the pole yesterday, maybe he was a bit too much cautious in one corner.
"Charles had a clear problem in the morning, losing completely FP3, we fitted a downgrade on the engine in the car, and overall I think that looking at his performance in Q3 and what could have been done without the issue in the morning, I'm pretty sure that as well he was potentially in the fight for pole as well. So I don't see where is the problem.
"If we look at the race today, we may comment later on, but certainly the speed on the straights was not our issue, while we've got clear problems on the grip on the car first stint both drivers.
"Again it's type of comments I feel are completely wrong. It's not good for the sport and I think everybody should be a bit more cautious."
Mercedes boss Toto Wolff revealed post-race data had shown Ferrari's original advantage on the straights had shrunk noticeably in Austin.
On whether the technical directive could have an impact on Ferrari's performance going forward, Binotto was unsure if this could be the case.
"Honestly we will look through the technical directive," he added. "We have not done it this weekend in detail, we've seen I think it's number 35 of the season.
"It's a process where teams may ask clarification to the FIA, and the FIA is replying. Will it have impact in the race or qualifying? I don't know, not able to answer you."
---