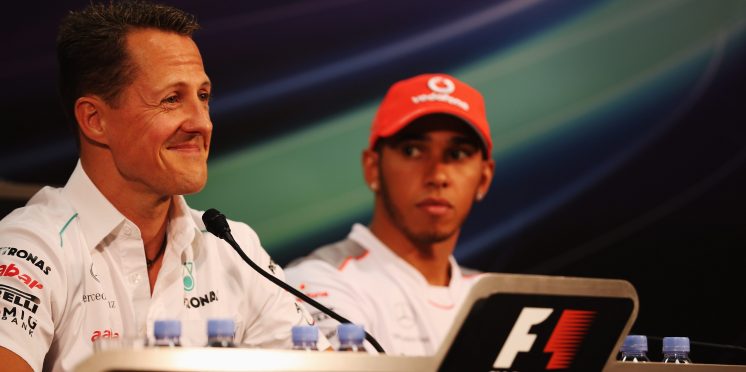 Lewis Hamilton vs Michael Schumacher at six F1 titles
Lewis Hamilton's second place finish in Austin may have looked from the outside a result that was far bellow the expectations of a driver of his calibre.
On another day that may have been the case, but, on this day, it didn't matter. The Briton sealed a sixth drivers' championship in 2019, once again proving why he's one of the Formula 1's all time greats.
With 10 wins from the 19 races contested thus far, it's been a season where Hamilton's level of competition may have risen, but he has barely dipped.
The success sees him move clear of the great Juan Manuel Fangio's five titles to sit second on the all-time list for most drivers' world championships.
Now, only one driver lies in his pathway to potential greatness: Michael Schumacher. It seemed to many that Schumacher's record was unlikely to equaled or beaten for some time, but just 15 years later it is becoming a real possibility.
For Hamilton, he can surely see an opportunity too good to resist. His contract may run out at the end of next year, but his desire to race on thereafter looks to be growing and growing.
16 years ago, Schumacher became the most successful driver in the sport's history when he clinched a sixth drivers' crown, eclipsing Fangio's 46-year record.
As both sit at the very top in F1's long line of greats, how do Hamilton and Schumacher compare as six-time world champions?
Ironically, Hamilton won this year's championship at the same age as Schumacher was when he clinched his sixth title in 2003. At 34, and in a team that has achieved what no other team has done before, the Briton stands a very good chance of becoming the undisputed king of F1.
Here's how Lewis Hamilton stats compares to Schumacher at the same stage of their respective careers.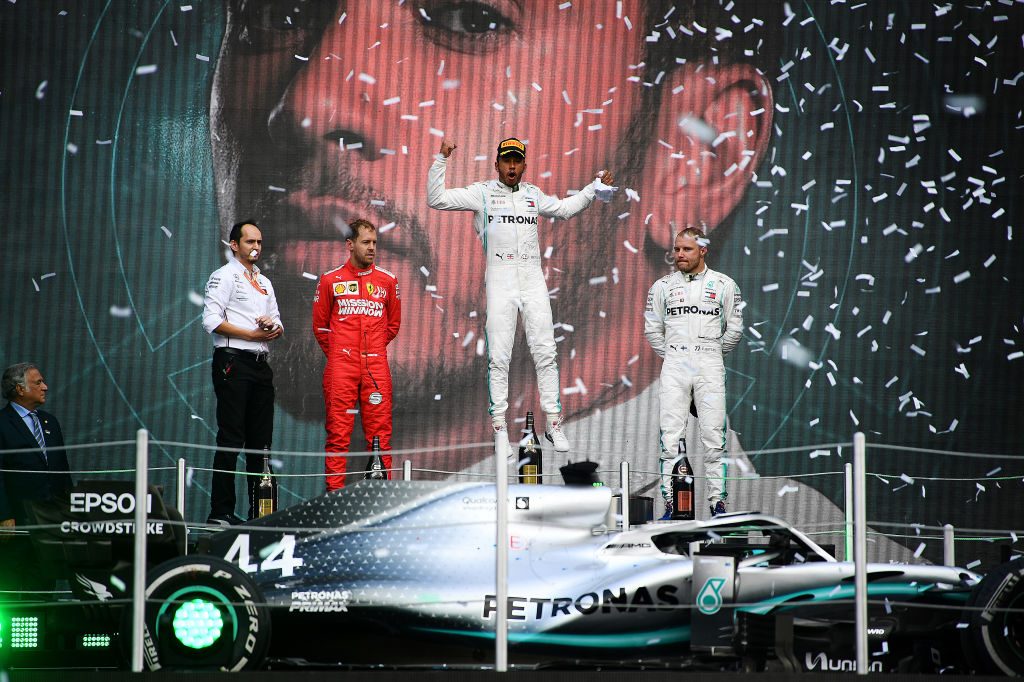 Race victories
When Lewis Hamilton joined Mercedes in 2013 he had 21 wins to his name. In six years, Hamilton has added a whopping 62 victories to his CV, leaving him currently on 83 career race wins, eight off Schumacher's outright record of 91. He also had conquered an incredible 11 wins over an entire season on two occasions in 2014 and 2018, as well as recording his best run of consecutive race wins (five) also in 2014. Hamilton has also triumphed seven times at the same circuit, with Canada and Hungary his two most successful tracks to date.
Schumacher won six races in 2003 to take his career tally to 70 (13 behind Hamilton) further extending a record in which he'd held since 2001 when he surpassed Alain Prost's 51 victories. At this stage, the German also had claimed 11 wins in a season (2002), a record at the time. Schumacher had achieved six successive victories, one more than Hamilton, in 2001, and had six wins at both the Canadian and French Grand Prix's. In terms of most wins with one team, Hamilton's 62 with Mercedes is 10 shy of Schumacher's 72 with Ferrari, but Schumacher was on 51 by the end of '03.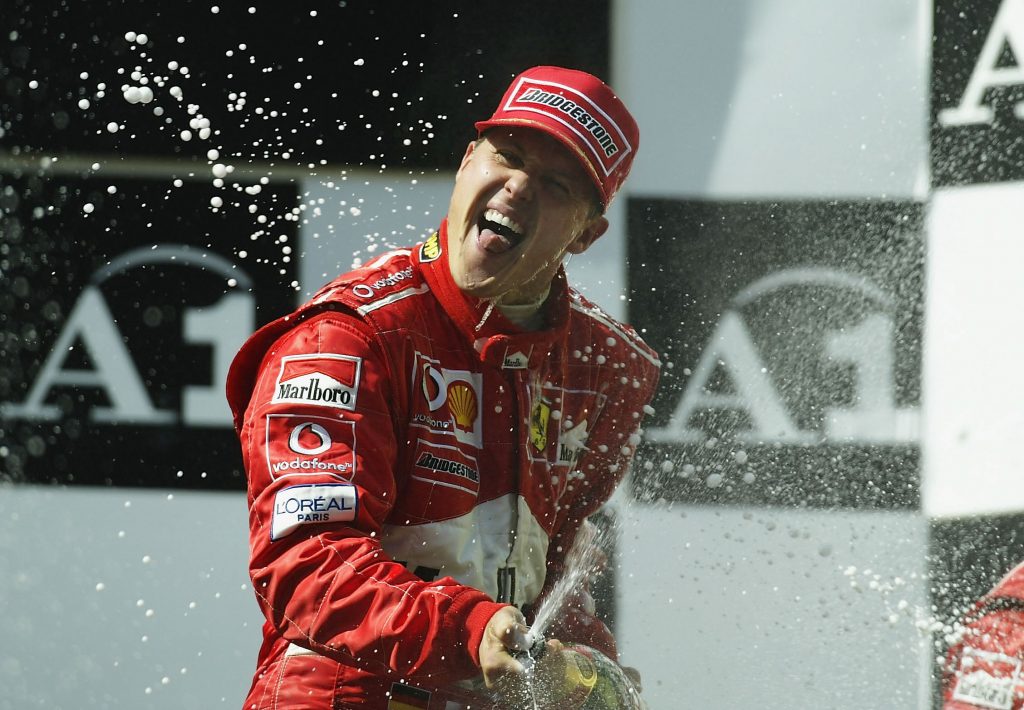 Podiums
Hamilton is inching even closer to Schumacher's record of most podiums finishes. His second place in Austin was his 150th career podium, just five away from Schumacher's 155. Nevertheless, Schumacher was still racking up an impressive total at the end of 2003, claiming 122 podiums by the end of the year, and in fewer races than the present calendar. Hamilton had his most podium finishes across a season in 2015, standing on the rostrum 17 times from 19 races. Schumacher too had recorded 17 podiums over a campaign, but impressively achieved the feat through all 17 races in 2002.
In terms of most consecutive podiums, Hamilton's best run came through his championship-winning 2014 season and into his all-conquering 2015 campaign. He achieved 16 podiums on the bounce from Monza in '14 to Silverstone the following year. However, Schumacher bettered this by three, standing on the podium at every round in '02 proved key to this stat as he went from Indianapolis 2001 to Japan the year after spraying the bubble.
Most podiums driving for one team falls in Hamilton's favour with 101, Schumacher had stood on the podium for Ferrari on 84 occasions, which he managed another 32 times by 2006.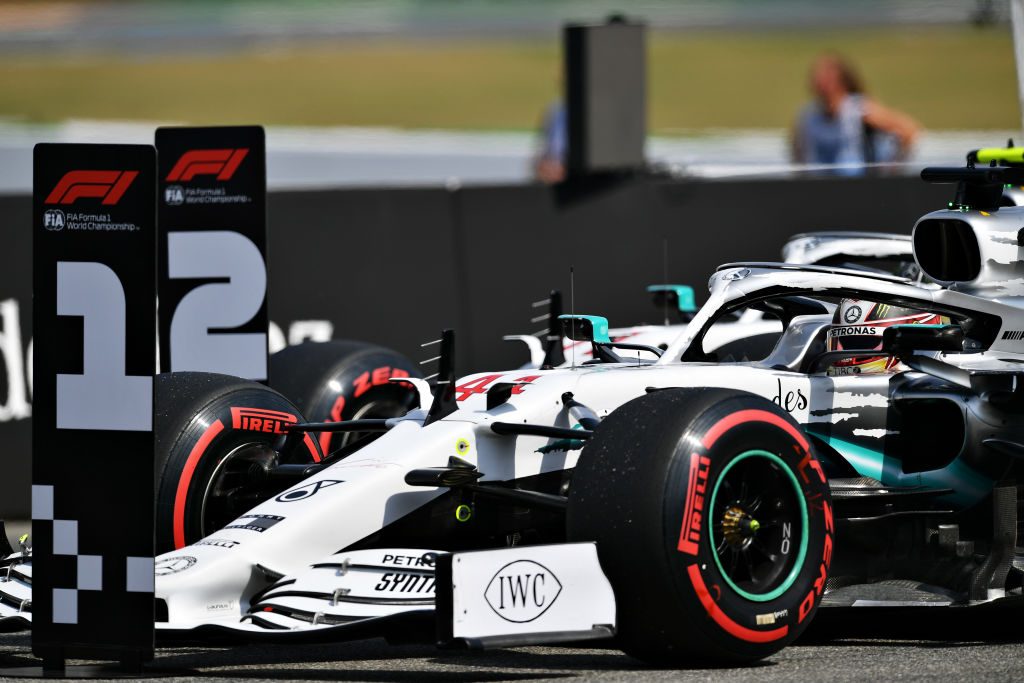 Pole positions
In spite of whether his one-lap dominance has faded this year, Hamilton has still added four pole positions to his name to take his record tally to 87, 19 ahead of his nearest rival Schumacher. But while Schumacher had yet to reach the then-record of 65 set by Ayrton Senna, he moved to within 10 with five poles through '03. Hamilton's best run of poles through a season came in 2015 when he clocked 12 from 19 races. Although Schumacher's best of 11 in 2001 falls short, the German managed it over a 17-race season.
The pair are tied when it comes to consecutive pole positions (seven), but Hamilton has taken more wins from pole with his current total at 49. Schumacher would go on to be victories 40 times from pole, but had achieved 29 at this stage. Hamilton has the edge when it comes to most poles at the same circuit, achieving eight (Australia) to Schumacher's seven (Japan), although he'd reach eight with pole at Suzuka in 2004. Hamilton edges out Schumacher for wins from pole over a campaign, with Hamilton achieving eight in 2017 and Schumacher six in 2001 – which he would increase to eight the in '04.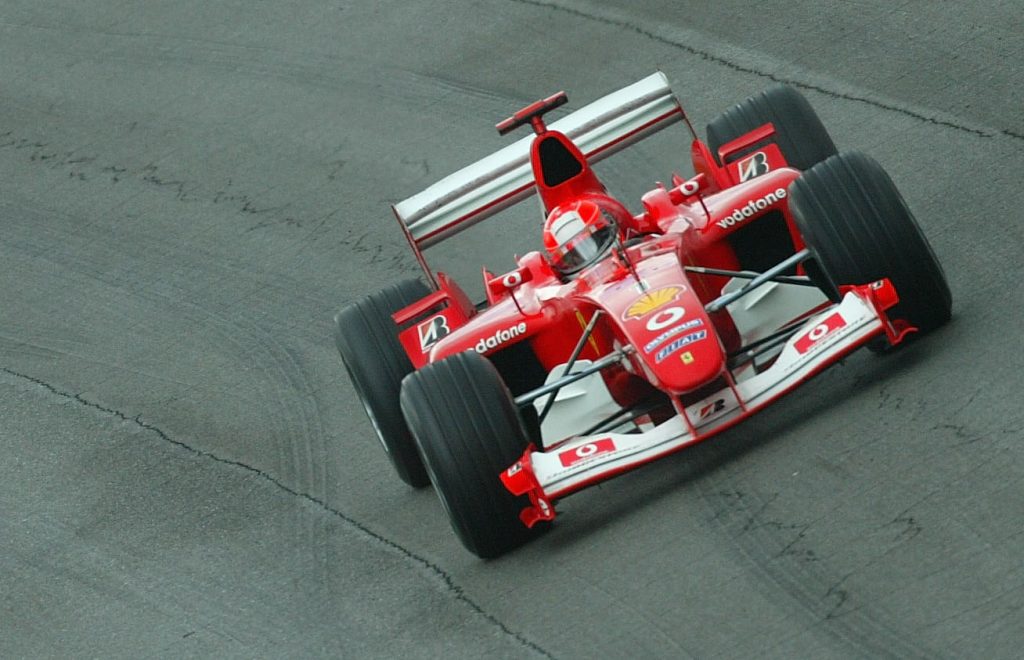 Fastest laps
Hamilton has recently moved into a joint hold of second place in the all-time list for most fastest laps alongside Kimi Raikkonen, with a total of 46. This is 31 less than Schumacher's overall record, and 10 less than the German had managed by the end of 2003. Schumacher holds the joint record for most fastest laps through a season with 10, two more than Hamilton's best of eight in 2015.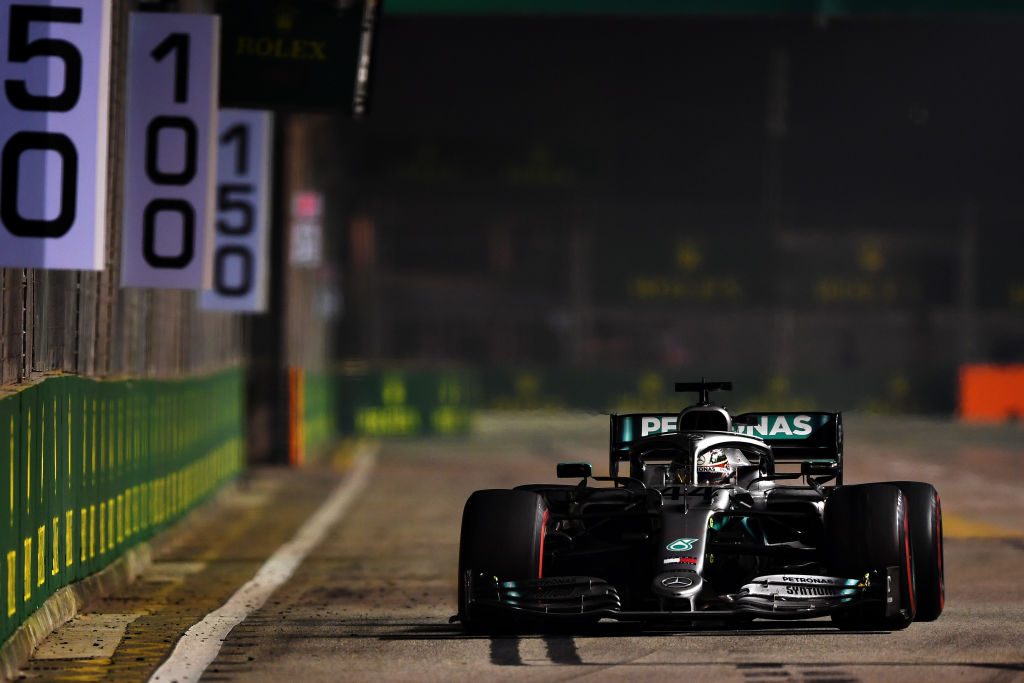 Points
As for career points, the points system has changed dramatically over the years. Hamilton has raced under the system where drivers from first to eighth place secure points, as well as the current top 10 system. Schumacher by 2003 had raced where points had predominantly been awarded to the top six drivers, before a tweak in '03 to the top eight.
Hamilton has held on to the record for most career points since 2014, holding a total of 3399. Midway through 2003, Schumacher became the first driver to reach 1000 career points at the Canadian Grand Prix, finishing the year with a tally of 1038, adding a further 528 by the time he retired. Concerning number of points finishes, Hamilton has finished 211 races inside the points paying positions, 10 behind Schumacher's record, but he was on 157 at this point. A record 33 consecutive points finishes puts Hamilton clearly ahead on this list, and is on course to better it as he currently sits on 30 points finishes in a row.
Schumacher's best run came to an end in 2003, when he spun in the rain-soaked Brazilian Grand Prix whilst on 24 successive races in the points.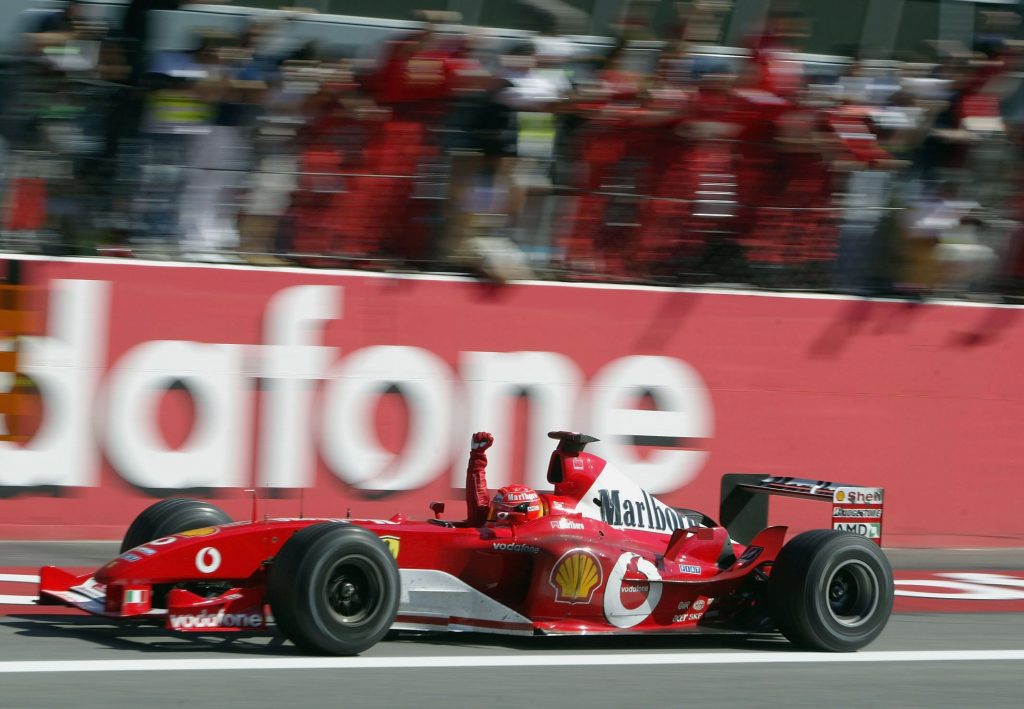 Hat-tricks, Grand slams and other records
Both Hamilton and Schumacher differ very little when it comes to multiple Formula 1 records. In terms of hat-tricks (pole, win, fastest lap), Hamilton is on 14 presently, eight behind Schumacher's overall tally, which was at 15 in 2003. As for grand slams (pole, win, fastest lap, lead every lap), Hamilton has now achieved five, three of which came in 2017. Schumacher also has five, but had only achieved three by this time.
In terms of front row starts, Hamilton has surged ahead with a monumental 144 starts from the front row of the grid. Schumacher had the record at 116, having achieved 91 front rows at this point in time. Hamilton is continuing to build up his stat for most laps led, now approaching the 4500 mark. However, there is still someway to go to eclipse Schumacher's total of 5111, he'd accumulated 3974 led laps by the end of 2003.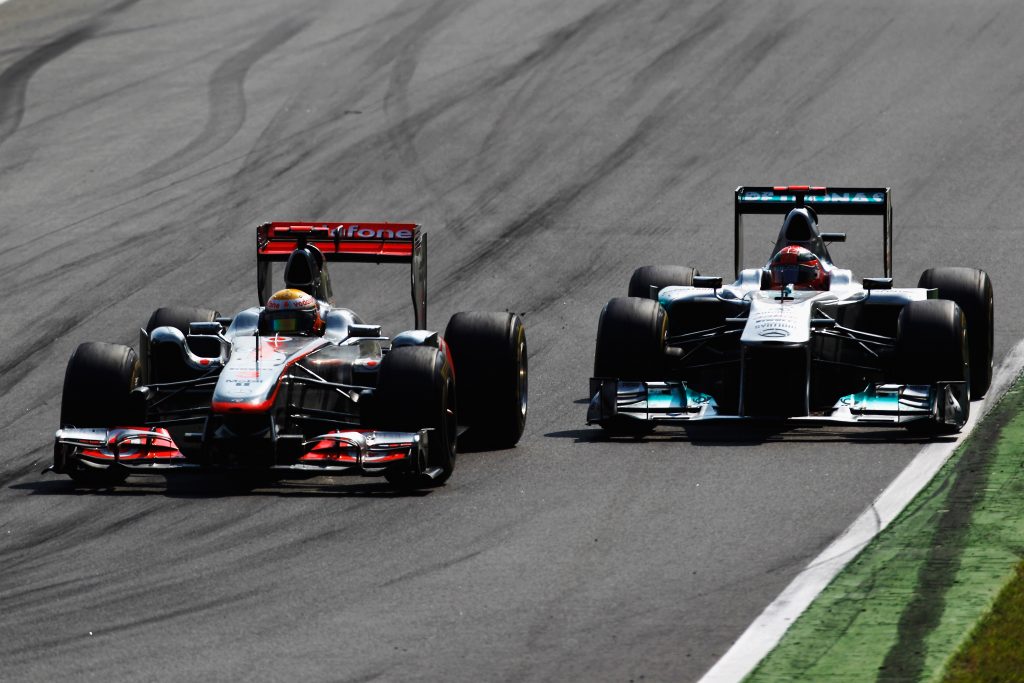 A summary of the numbers
Lewis Hamilton: Career stats up to 2019 US Grand Prix
Race starts: 248
Drivers' championships: 6
Race wins: 83
Podiums: 150
Career points: 3399
Pole positions: 87
Fastest laps: 46
Wins in a season: 11×2 (2014, 2018)
Most podiums in a season: 17 (2015)
Wins from pole: 49
Points finishes: 211
Consecutive points finishes: 33 (Malaysia 2016 – France 2018)
Consecutive podium finishes: 16 (Italy 2014 – Britan 2015)
Consecutive wins: 5 (2014)
Most wins at same race: 7 (Canada, Hungary)
Most grand slams (pole, win, fastest lap, lead every lap): 5
Wins with one team: 62 (Mercedes)
Podiums with one team: 101 (Mercedes)
Poles in a season: 12 (2015)
Wins from pole in a season: 8 (2017)
Fastest laps in a season: 8 {2015)
Laps led: 4425
Front rows: 144
Michael Schumacher: Career stats up to 2003 Japanese Grand Prix
Race Starts: 193
Drivers' championships: 6
Race wins: 70
Podiums: 122
*Career points: 1046
Pole positions: 55
Fastest laps: 56
Wins in a season: 11×1 (2002)
Most podiums in a season: 17 (2002)
Wins from pole: 29
*Points finishes: 157
Consecutive points finishes: 24 (Hungary 2001 – Malaysia 2003)
Consecutive podium finishes: 19 (USA 2001 – Japan 2002)
Consecutive wins: 6 (Monza 2000 – Malaysia 2001)
Most wins at same race: 6 (Canada, France)
Most grand slams (pole, win, fastest lap, lead every lap): 3
Wins with one team: 51 (Ferrari)
Podiums with one team: 84 (Ferrari)
Poles in a season: 11 (2001)
Wins from pole in a season: 6 (2001)
Fastest laps in a season: 10 (2004)
Laps led: 3974
Front rows: 91
*Includes old points scoring systems (1991-2002: first-sixth 10,6,4,3,2,1) (2003: first-eighth 10,8,6,5,4,3,2,1)
---