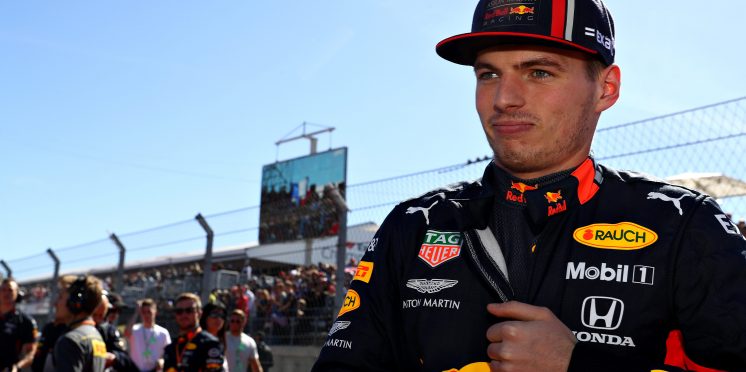 Leclerc slams Verstappen's 'joke' Ferrari engine accusation
Charles Leclerc has hit back at Max Verstappen's claims that Ferrari exploited Formula 1's engine rules prior to its surprise lack of pace in Sunday's US Grand Prix.
Red Bull filed a request to the FIA for it to inspect if Ferrari's engine was legal as the Scuderia has held a straight-line speed advantage for much of the season.
Rivals teams have speculated the legality of its power unit given the performance of the car, in particular in qualifying, with the FIA's response that any such power boost concept would be illegal.
Verstappen told Dutch TV channel Ziggo Sport he was "not surprised" Ferrari were off the pace in Austin, before adding: "That's what happens when you stop cheating, of course. But yeah, they had a good look at it. So now we have to keep a close eye on it, of course."
Red Bull's Technical Directive enquiry was for a clarification on fuel flow, which is rumoured to be behind Ferrari's engine performance.
Fuel flow is monitored by the FIA through a single sensor, strictly forbidding any device, system or procedure that can influence an increase in flow rate or storing  and recycling fuel at the measuring point.
Having claimed six of the last seven pole positions since the summer break, Ferrari were visibly lacking a competitive edge it had shown at recent races.
The team has been noticeably fast on power circuit such as Canada and Monza this year, with suggestions it has held an eight-tenth buffer on the straights alone.
When informed of Verstappen's comments, Leclerc was critical of the Dutch driver's accusation.
"I think it is a joke, to be completely honest," Leclerc said, as quoted by Motorsport.com. "He has no clue. He is not in the team.
"We know exactly what we are doing. I don't know why he is speaking. He doesn't know anything about us."
---