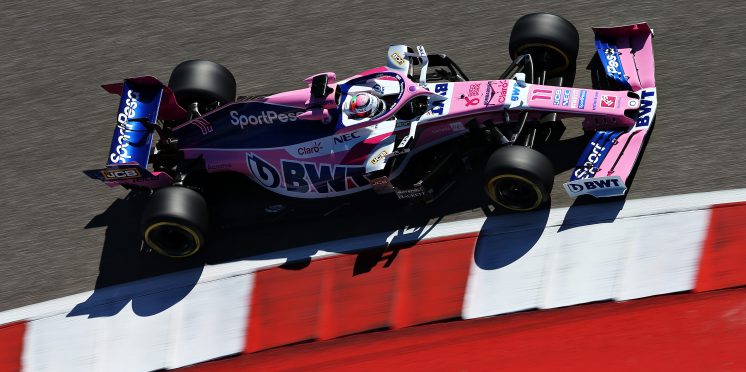 F1 drivers divided over Austin's bumpy track
The condition of the Circuit of The Americas has caused a divide in opinion among Formula 1 drivers after the opening two practice sessions on Friday.
As the on-track action commenced in FP1, it was noted the Austin track had a series of unexpected bumps in various areas of the circuit.
Five-time world champion Lewis Hamilton immediately showed concern for the track conditions, stating via team radio: "These bumps are insane out here. I don't know if this track is safe".
Racing Point's Sergio Perez was particularly vociferous about the state of the circuit, criticising the danger of the track surface could lead to crashes in Sunday's race.
"It can be very painful," Perez said, as quoted by Motorsport.com. "Someone can get hurt over these bumps and you have seen some drivers going off at very high speed, and it is due to the bumps.
"I think it is totally unacceptable."
"I think today we are over the limit. We have seen some incidents due to the bumps and I think that is just not acceptable.
"In the race, and I hope not, but I expect to see some people crashing out when the deg starts to kick in. All of a sudden you get a bump in the wrong angle and go straight into the wall, so it is quite bad."
Red Bull's Max Verstappen was mindful that hitting a bump at the wrong angle could lead to drivers suffering injury, informing that in certain places it was like a "ramp".
"You have to be careful," he said. "If you go a bit off-line and you want to outbrake someone, I'm always a little bit afraid to damage your back or whatever.
"It's something we have to look into of course. I don't mind bumps on a street circuit, it's part of it. But these bumps are quite severe.
"It's almost like a hump or a ramp in some places where the wheels are coming off the ground. That's of course not what you want. We'll have a look at it."
Renault's Daniel Ricciardo did not share the view that it was a potentially dangerous situation, defending that it gave the track a "bit of character".
"I actually prefer this than something that's perfect," said Ricciardo. "Then it feels like video games.
"Some corners are uncomfortable but it actually adds a bit of character and feeling to the circuit, and it keeps you awake.
"It's certainly challenging but it's a challenge. It's not like any other circuit."
Romain Grosjean was a victim of the bumps when he lost the rear of his Haas through the first sector in FP2, but nevertheless had little complaints despite it being "slightly painful on the lower back".
He added: "The rest I think gives some character to the circuit and is pretty cool."
---