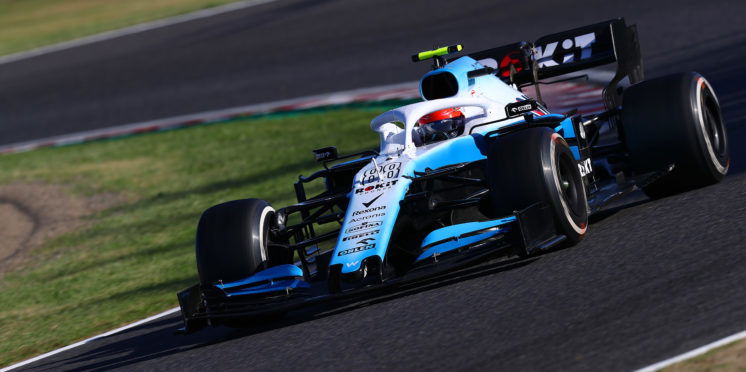 Kubica: 'Boundaries were crossed' by Williams removing upgraded wing
Robert Kubica says his Williams Formula 1 team 'crossed boundaries' by opting to remove the front wing update from his car before qualifying at the Japanese Grand Prix.
Williams gave both of its drivers a chance to test the latest front wing upgrade in Friday's first practice session at Suzuka.
As the team had brought just one version of the upgraded wing, it would be fitted to whichever driver felt it was providing the most benefit to the cars performance.
Kubica gave more positive feedback than team-mate George Russell, and the front wing remained on his car for FP2, but, before qualifying on Sunday morning, Williams chose to not fit the wing to either car.
The Pole crashed hard at the final corner in Q1, sustaining sizeable damage that forced Williams to chance his chassis and start Kubica from the pitlane where he came home as the final classified finisher in 19th.
"Friday was very good. First time for a very long time," Kubica told Polish television, as quoted by Motorsport.com.
"We changed the front wing. It wasn't supposed to be better and on the second car it did not give any advantage or was even worse. But my car felt a lot better.
"However, for strange reasons, the wing was taken from my car this morning before qualifying.
"I think there was just too much time to think about it on Saturday…
"The typhoon passed, but I think the decision was not related to the track here, but more so to other reasons or choices.
"This morning, however, gave me a lot to think about. I knew some things, but this morning some boundaries were probably crossed."
This incident comes off the back of Kubica being retired with a seemingly healthy car in Russia as Williams had a lack of spare parts due to Russell's crashes in Singapore and Sochi.
Kubica's return to F1 has been a real battle as he's been consistently out-performed by rookie Russell, and spoke of how the latest update had transformed his feeling of driving the FW42.
"I was hoping after the really disappointing Russia we would be here trying to do our best and this is what we tried to do on Friday," added Kubica.
"Actually on Friday I ended up with quite good feelings but my feelings were probably too good.
"Conditions were different but on Friday something happened which gave me quite a lot of confidence and improved my feeling in the car.
"We agreed on something and then on Sunday morning things changed for whatever reason.
"I think it was not a decision of people who are here.
"I don't want to go into the details too much but after Russia where we were disappointed overall when you have a driver who says 'for the first time for a very long time I can drive the car properly and I'm actually properly exploring the car', this is what every team would look to have.
"But for whatever reason…"
---