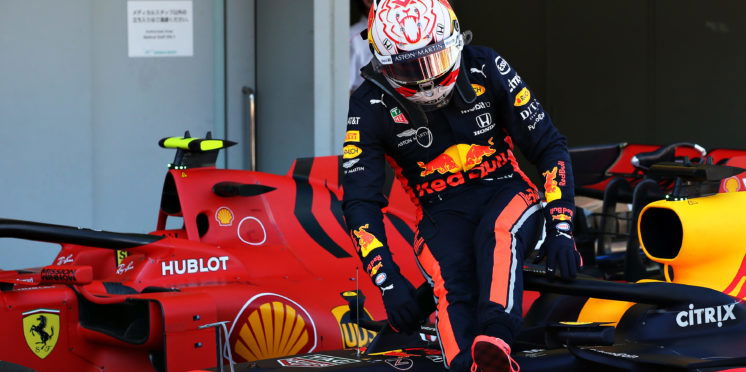 Verstappen blasts 'irresponsible' Leclerc for first-lap clash
Max Verstappen says he couldn't have done "anything different" after his first-lap collision with Charles Leclerc in the Japanese Grand Prix, branding the Monegasque's driving as "irresponsible".
Leclerc bogged down from his P2 grid slot which saw him lose ground on the run to Turn 1, while Verstappen made a clean getaway from the third row.
The Dutch driver chose the outside line as he ran side by side with Leclerc, but the Ferrari understeered into Verstappen causing the pair to make considerable contact.
Verstappen lost a handful of positions as he rejoined at the back of the field, as Leclerc picked up front wing damage which forced him into the pits for repairs.
Although the incident was initially waved away by the stewards, a post-race investigation was deemed necessary which Verstappen questioned after retiring early on Lap 15.
"At T2, Charles just drove into the side of my car," Verstappen told Sky Sports.
"From my side I don't think I could have done anything different there. We all know that you lose downforce behind a car so that is not an excuse, he's experienced enough to know that.
"For me, the weird thing is that initially they don't investigate it – the whole car was destroyed, there were just holes in the side of the car.
"Now they've started to investigate it but it's after the race, what more should he do to get a penalty? I like hard racing but this wasn't hard racing, just irresponsible driving.
"They had a bad start so he was trying to recover but there's only so much you can do in a very long race. It's a shame that it happened."
Explaining how he saw events from his point of view, Leclerc said, as quoted by Motorsport.com: "Obviously I understeered being behind Seb and Lewis, and then we touched, I don't know what happened from the full situation from the outside, and this I need to look at.
"From the car it was just a tricky situation."
---