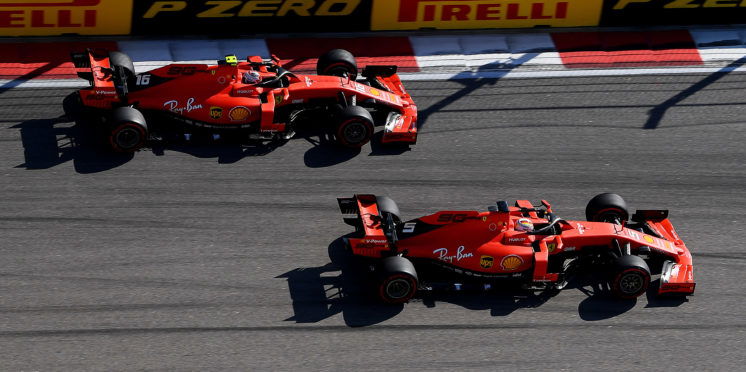 Ferrari: Not learning from past errors would prompt 2019 regret
Ferrari would only regret the outcome of this season's championship if it had not learned from the errors that have curtailed its 2019 campaign, says team principal Mattia Binotto.
After seeing Sebastian Vettel finish runner-up to Lewis Hamilton in 2017 and 2018, Ferrari hoped this year would reward them with a first drivers' title in 12 years.
However, the Italian team took a wrong turn in the development of the SF90 which made it an extremely complex car to understand, allowing Mercedes to romp into a dominant lead in both championships.
Although it has turned its performances around since the summer break winning three races, Ferrari is destined to lose out in the title race for the third year in succession.
Asked if the early-season blunders had made him regret how the season had played out, Binotto said, as quoted by Motorsport.com: "I think having regret does not make sense.
"We need to move forward and look ahead. If we were not performing as expected or we missed opportunities it's because we've got some responsibility on that.
"More important is to try as a team to move forward and to learn from mistakes and make sure they are not happening again in the future. "It's not a matter of regret. It would be if we have not learned from that. And I think as a team we're growing and that's more important."
While the aim of brining Ferrari back to the top is the main target, Binotto says his first objective is to improve on last year's points total before sighting a major push for the title.
"We should be focused race by race and try to optimise the result of each single race," added Binotto.
"Only at the end of the season we can try to draw the line and see where we are.
"It would be great to do at least better than last year [Ferrari scored 571 points in 2018, and currently sits on 409], because that would show that as a team at least we are improving.
"I know we had a bad start to the season. It may be difficult, but not impossible, and I think that should be the first objective.
"Then let's start dreaming. Eventually if we can do more, we will not reject it."
---