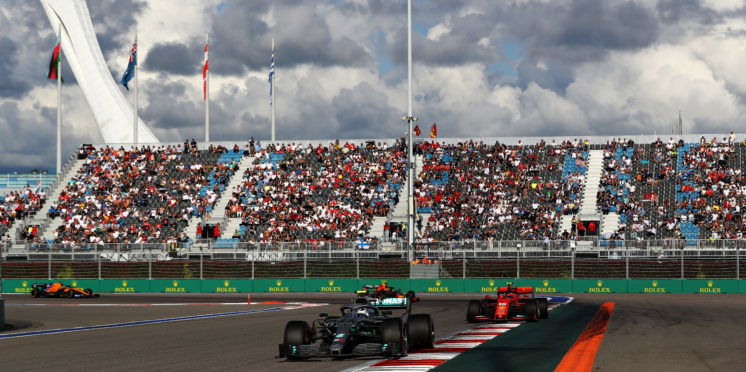 Wolff: Mercedes needs to 'fix' performance to overhaul Ferrari
Mercedes Formula 1 boss Toto Wolff says the team has to "fix" its current performance deficit to rivals Ferrari if it is to beat the Scuderia in the remaining races.
After Mercedes dominant first half of the season – which saw the Silver Arrows claim 10 wins from 12 races – Ferrari has hit back since the summer break.
The Italian outfit has triumphed in three of the last four grand prix's and was on course to extend its run of victories in Russia before a virtual safety car period allowed Mercedes to leapfrog Ferrari into the lead.
Speaking after Lewis Hamilton's Russian Grand Prix race win, Wolff admitted the Anglo-German outfit will need to overcome Ferrari's resurgence in the final five rounds of the season.
"I think, in the moment of joy now, we need to be self-aware now – from pure speed, we didn't have the performance this weekend," Wolff said, as quoted by Crash.net.
"And there are many areas on which we need to work on to get our performance levels back.
"But equally the Sunday result shows you must never give up, even if you go into the race with a package that is not the quickest.
"If you do things right, all of those things, the drivers, the engineers and the management, then you can still win races. You've got to finish.
"First, we have to fix our performance," he added. "You can still fight as hard as you can, but if it's not a level playing field then you've got to step up.
"Until then, you just have to give it everything, and this is what we did."
Asked if he felt recent weekends have suggested Ferrari is extracting the true potential of the SF90 or Mercedes is underachieving, Wolff said: "I think the truth will be somewhere in the middle.
"They have, and continued to make big steps in straight-line performance and they have had a good car in Singapore, a very good car in Sochi, and if you put these dots together you are setting the benchmark.
"And this is what they did over the last two weekends. In the same time, we haven't brought upgrades since a long time onto the car, and we haven't managed things as optimum as you can manage.
"But also we've been a bit unlucky with some of our calls, and over the last few races we could have won some of these races but we didn't, and we turned our bad luck into good luck here."
---