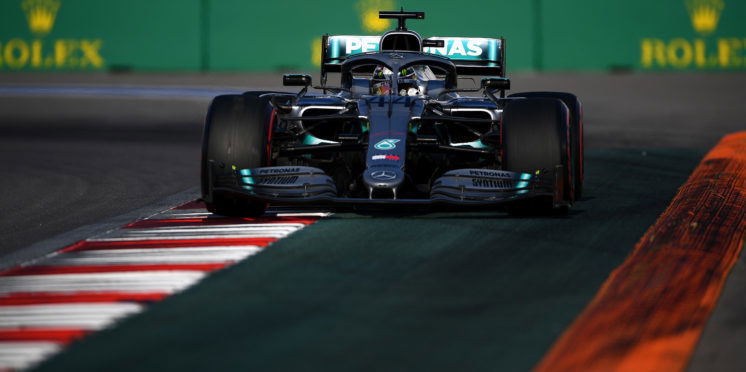 Hamilton: Recent Q3 laps were 'pole-worthy'
Lewis Hamilton believes his Q3 laps at recent races have been "pole-worthy" after last-gasp effort saw him snatch a front row grid slot in qualifying for the Russian Grand Prix.
Mercedes came to Russia having won at all five grand prix's staged at the Sochi Autodrom since 2014, but were surprised to be well off the pace in practice.
Prospects looked bleak heading into qualifying as Ferrari's straight-line speed advantage has been gifting the Italian team a competitive edge over its rivals.
Despite Charles Leclerc's dominant fourth successive pole position, Hamilton blitzed his final Q3 attempt to knock the second Ferrari of Sebastian Vettel off the front row, starting alongside Leclerc for the third race running.
Asked to rate his performance given Ferrari's pace advantage, Hamilton said, as quoted by Motorsport.com: "I feel like the last couple of laps have been pole-worthy in terms of how it's come together, and optimising what's in the car.
"Naturally they are faster than us and Charles has done a good job but I mean in terms of being as close to the limit as possible.
"I've just been getting more and more comfortable in the car in the second half of the season, even though we've lost a little bit of performance compared to them.
"There is still work to do collectively, all of us including myself."
Hamilton has failed to register the fastest lap in qualifying since July's German Grand Prix, with Verstappen and Leclerc out-foxing the five-time world champion at the last five events.
The Briton likened Ferrari's speed on the straights to having a "jet mode", but was nonetheless jubilant to turn around a tough weekend up to that point.
"It was a tough qualifying session because these guys have some crazy speeds on the straight," he said.
"They go to another level. That old party mode you talk about, they have something else beyond that – jet mode.
"Nevertheless, I gave it absolutely everything I had at the end. And the team did such a great job to tinker and push forward. I am so glad it came together. I wasn't expecting to get on the front row so I am really happy with it nonetheless."
---