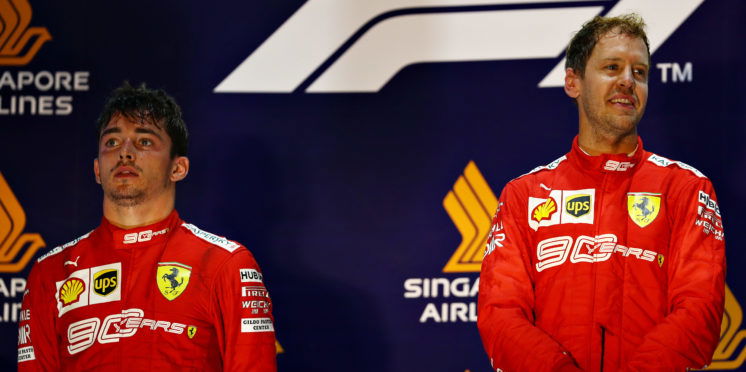 Vettel/Leclerc relationship could 'escalate' warns Wolff
Mercedes boss Toto Wolff says the relationship between Ferrari's Sebastian Vettel and Charles Leclerc has the potential for a "rivalry and an escalation" should the dynamic turn toxic.
A one-two finish for the Scuderia in Singapore was overshadowed by Vettel benefiting from a strategy that allowed him to leapfrog Leclerc, who had led from pole position, and secure his first win in 13 months.
The Monegasque vented his anger after emerging from his pitstop behind his team-mate, but later said he understood why the call to pit Vettel a lap earlier had been made.
At the previous race at Monza, Vettel was infuriated with Leclerc for disobeying an agreement to tow him in qualifying, causing Ferrari to intervene and cool matters between the pair.
"I think always two alphas competing for position has the potential for a rivalry, and an escalation within the team," said Wolff, who oversaw Lewis Hamilton and Nico Rosberg's intense rivalry at Mercedes, as quoted by Motorsport.com.
"We've been there and I think today as a team we're very strong with a clear philosophy.
"On the positives, they [Leclerc and Vettel] keep taking points away from each other, which is an advantage, but I don't want to look at points at that stage.
"It's about optimising what we have, winning races and doing the best you can, and we didn't do that [in Singapore]."
Ferrari's run of three consecutive victories has turned the form book on its head after Mercedes' 10 wins from 12 races in the first half of the season.
Although Mercedes goes to Russia having won the event five years on the bounce, Wolff insists the increased competition from its rivals means nothing is guaranteed.
"Sochi has been a strong circuit for us in recent years but those trends don't mean anything once we are on the ground," he said. "We expect the weekend ahead to be another challenging one for us.
"The last seven races have shown us that we are in the midst of a fierce battle – and we need to be at our best in every area to claim the top step of the podium."
---