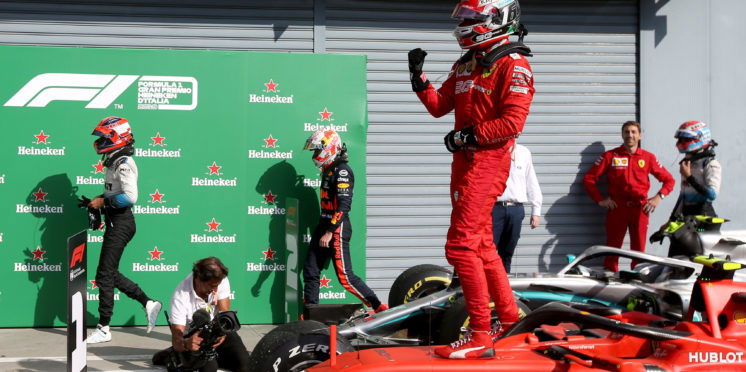 Binotto told Leclerc he was 'forgiven' on cool-down lap
Ferrari team principal Mattia Binotto has explained the reason behind his radio message to Charles Leclerc following his win in Sunday's Italian Grand Prix.
Leclerc held off the Mercedes' of Lewis Hamilton and Valtteri Bottas to claim Ferrari's first victory at Monza in nine years, but received a message from Binotto via team radio on the slowing-down lap.
During a farcical end to Saturday's qualifying session that saw several drivers miss the chance to set a second lap time, Leclerc's team-mate Sebastian Vettel had expected the Monegasque to tow him as had been agreed within the team.
However, Leclerc only passed Vettel just before Parabolica and the four-time world champion didn't cross the line in time to start a lap.
Speculation arose that Binotto was furious with Leclerc's unwillingness to follow the team's agreement. This was confirmed when he radioed the 21-year-old to say "you're forgiven" in Italian after triumphing on race day.
"Sei perdonato. It means whatever happened in the last days, that we discussed – and that's something that will remain between us three – at least he did a good job," Binotto told the media, as quoted by Motorsport.com.
"That was a way of me telling him that at least we are happy with the job he did."
Asked if the incident could cause tension inside the team, Binotto said: "It will not affect [things]. At first it's something we discussed internally, there may be different points of view, the outcome was certainly a very strange situation for everybody.
"I think more important was what Seb said at first, turn the page, and looking ahead. I think that these guys are great, and I can count on them. So it will not affect, I'm pretty sure.
"Doesn't mean it will not happen again, because you never know. The spirit is whatever you may do, there is something to learn, and therefore it's important to make sure it's a lesson learned."
---