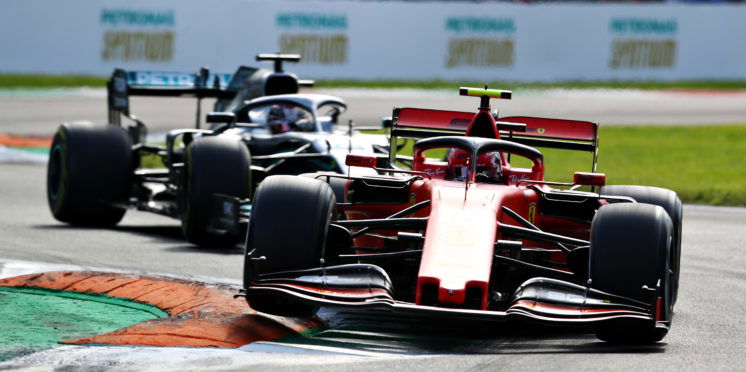 Hamilton: Leclerc incident shows younger drivers 'get away with a lot more'
Lewis Hamilton believes the younger generation of drivers are dealt with more leniently when it comes to driving standards in wheel-to-wheel racing.
The five-time world champion was embroiled in an intense battle with Ferrari's Charles Leclerc for the lead of the race, which Hamilton felt crossed a line when Leclerc squeezed him at Turn 4.
Taking to take to the run-off area, Hamilton rejoined behind Leclerc, who was shown the black-and-white flag as a warning from the stewards for the incident.
Hamilton felt the Monegasque got off lightly with just a warning, but FIA race director Michael Masi ruled it was the correct decision to not hand Leclerc an in-race penalty as there was no contact between the drivers.
"It seems the new generation get away with a lot more in that space of how they manoeuvre their car compared to, I would say, the more experienced drivers," Hamilton told Sky Sports.
"But it's good knowledge, now I know, and look forward to the next one."
Asked if Leclerc's move under braking was on the limit and should have resulted in a potential sanction, Hamilton said: "It doesn't really matter what I think.
"We've gone over and over this multiple times and it's pointless me bringing it up. I avoided the collision and then just kept focusing and trying to get close."
The Briton went on to finish third behind team-mate Valtteri Bottas but only lost two points to his nearest rival in the drivers' standings after setting fastest lap.
---