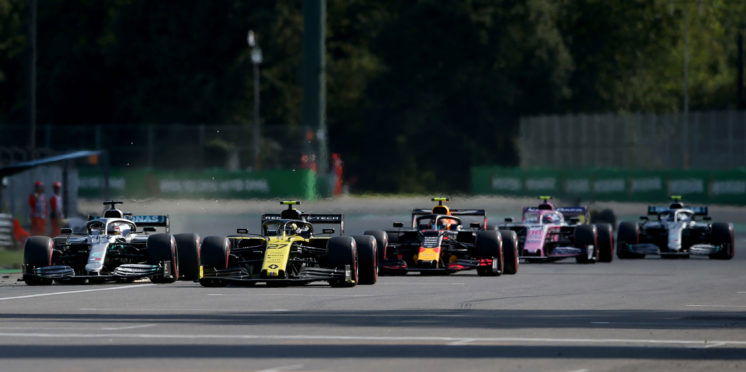 Hamilton: Crash would only prompt rule change to stop qualifying tactics
Lewis Hamilton believes changes to prevent a repeat of the incident at the end of qualifying for the Italian Grand Prix won't occur until someone crashes.
Several drivers were unable to complete a second lap in Q3 after they were embroiled in a tactical game to gain a slipstream amongst a train of cars on their out-laps.
Due to them deliberately slowing to avoid being at the front of the queue they didn't manage to cross the line before the end of the session.
Hamilton was one who missed the chance to complete a second flying lap, costing the Briton in his fight for pole position.
Asked if the situation was at risk of reoccurring at future races, Hamilton said, as quoted by Motorsport.com: "I am sure it is going to be continue, as positioning is key.
"If everyone is going out so late it will continue to be an issue in places where you particularly need a tow. It won't be until someone crashes that they will change."
Monza's long straights present an opportunity for teams to trial solutions to aid straight-line speed in a bid to give themselves a higher grid position.
Towing has been a common theme where drivers will run close together to give the benefit of a slipstream. Hamilton suggested a different qualifying format should be introduced at specific circuit's where a tow is key for lap time.
"We are all trying to get a gap which continues to be key," he explained. "In some places you want a bigger gap, and some places it is about the tow. These are track specific.
"I always thought they could do something different on different weekends anyway depending on the track but highly unlikely that will happen.
"It is the system that needs to shift a little, but I don't think we need to start handing out penalties. We need to look at it and reflect and see what we can do to make it better: make it better for the fans and make it less dangerous.
"Already they made a change today that we had to finish the out lap with a certain delta time but even that is too slow. There are improvements we can make for sure, for safety and for the spectators that watch."
---