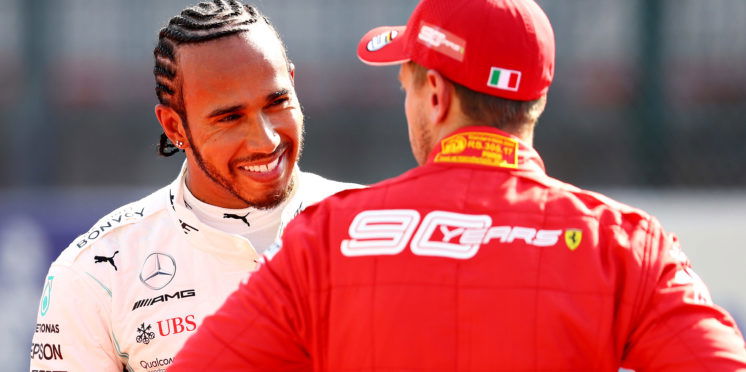 Hamilton would be 'contempt' finishing F1 career without stint at Ferrari
Formula 1 world championship leader Lewis Hamilton insists he would be "contempt" if he finishes his career without ever competing for Ferrari.
Hamilton has a contract with Mercedes until the end of 2020, but has been continuously linked with a move to the Italian outfit.
Mercedes team boss Toto Wolff admitted the appeal of a move to the Scuderia was discussed in negotiations with Hamilton over his contract, in spite of his success at the Silver Arrows since joining the team in 2013.
Asked ahead of the Italian Grand Prix if he felt he could consider his F1 career complete without a stint at Ferrari, Hamilton said: "I think so," as quoted by Motorsport.com.
"You've got to think that, when you're part of Mercedes, you're part of a family for life. So, 100 percent, could finish here and be content. And I'd get to drive Ferraris on the road.
"Will I be upset that I've not driven a Ferrari? I don't think you can dwell on things that you don't know, really. I love the colour [of the car], you see the passion of the crowd, of the team when they're down below the podium, it's different to any other place.
"But some things are meant to be, and I don't know if that's in the plan for my future. Time will tell."
Hamilton acknowledges Ferrari is unlikely to want to pursue a new driver with the strength its current driver line-up possesses.
While appreciating the loyalty Mercedes shows to its drivers, the five-time world champion also confessed his relationship with Ferrari's fanbase is growing.
"In actual fact when I now come a lot of Ferrari fans ask me to come to Ferrari, and I get a lot of messages from Ferrari fans who say 'I'm a Ferrari fan but I respect you'. I think it's growing slowly, bit by bit," he said.
"It will never be the same as if I was driving for the Ferrari team. Nonetheless, bit by bit it's shifting.
"I think Ferrari, they've not had a championship since 2007 so there's that yearning that all fans have of seeing their favourite team succeed, and I'm sure it's related to the fact that I've won the championship for the last few years perhaps.
"But they've got two great drivers there now [in Sebastian Vettel and Charles Leclerc], I'm sure they're happy with the new young star they've got coming up [Leclerc] and I'm super excited to see how he progresses."
---