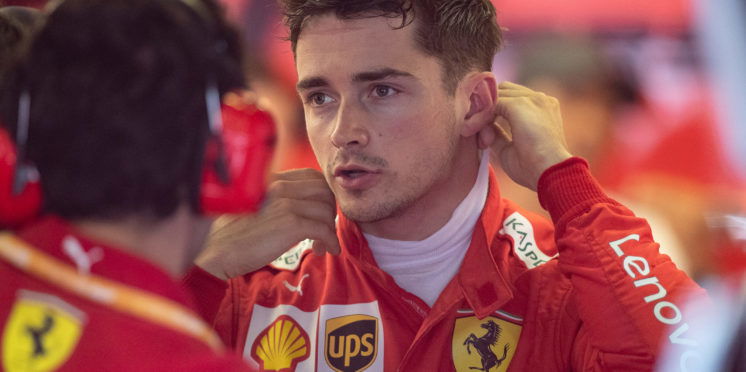 Leclerc was 'a little bit intimidated' arriving at Ferrari
Charles Leclerc admits upon his arrival at Ferrari he was "a little bit intimidated" given its high status but is now comfortable in the team's environment.
Leclerc joined the Scuderia this season after a solid debut campaign with Sauber last year where he scored points in 10 of the 21 races.
The Monegasque has proved more than a match for his four-time world champion team-mate Sebastian Vettel, with the pair separated by just 24 points in the latter's favour at the halfway point in the season.
Speaking about how he has settled in at Ferrari in the first half of the year, Leclerc feels his new found confidence is beginning to reflect in his recent performances.
"Arriving in such a big team, when I arrived it was only my second year in Formula 1 and you are a little bit intimidated," Leclerc said, as quoted by Crash.net.
"I was a little bit intimidated and just to arrive and straight away say I want this, this and this was not the way I wanted to start this relationship.
"So at first, I wanted to understand the car, try to adapt my driving as much as possible to the car.
"I think at one point I managed to do good things adapting my driving style but then I felt there was more performance by trying to put the car a little bit more into my direction and this has helped the performance a bit since then.
"I think before France, it was more myself that was adapting to the car.
"After that I think changed a little bit the approach, and I think I adapted the car a little bit which enabled to drive me a little bit more naturally, which helped me."
Leclerc is yet to claim his maiden Formula 1 victory having come close on a series of occasions. In Bahrain he was robbed by a short circuit failure, and despite leading the majority of the Austrian Grand Prix was passed by Max Verstappen just three laps from the end.
Although frustrated his first win has alluded him so far in 2019, the 21-year-old remains optimistic it will happen sooner rather than later.
"The target since the beginning of the season has been to get my first victory," he explained.
"It's not an obsession and I am trying to focus on myself and improve step-by-step after races and then I'm pretty sure success will come.
"We are working very hard and to work on improving where we are at the moment is the main target for the second half of the season."
---