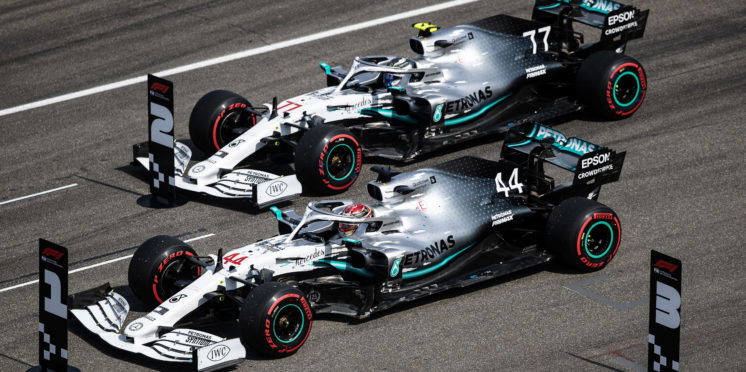 Pirelli: Mercedes' dominance not down to 2019 tyres
Mercedes' dominant first half of the season is not due to this year's thinner-treaded tyres, insists Pirelli boss Mario Isola.
Formula 1's sole tyre manufacturer introduced a thinner tyre for 2019 after trialling the tread at Spain, Silverstone and Paul Ricard last season – two of which were won by Mercedes.
The Brackley-based outfit has romped to 10 victories out of 12 races, including eight one-two finishes, leaving it comfortably ahead in both world championships.
This led to rival teams calling for last year's thicker-treaded tyres to be re-introduced, but with a split vote failed to get enough support for the move to be granted.
"Obviously we know that Mercedes is very quick," Isola said, as quoted by RaceFans.net.
"But forget Mercedes for one second: What can we say about McLaren? Toro Rosso, Renault sometimes is quick. So we have other teams that have been able to understand the tyres.
"If you look back at previous years we always have at the beginning of the season some teams they have to understand the tyre quicker than others. Sometimes it's Mercedes, sometimes it's Red Bull, Ferrari or other teams."
Isola stressed a connection cannot be drawn from Mercedes' success and the three races last year where the thinner-treaded tyres were used at as the rubber gave no clear advantage to one team.
"In Barcelona we had a race where Mercedes was dominating," he added.
"But then we had the in-season test after the race and Sebastian [Vettel] tested both the normal tread and the thinner tread and his comment was the thinner tread is better. His words, not mine.
"So we had Barcelona where it was clear that the thinner tread was better – I'm not talking about Mercedes. In Paul Ricard we had a race with some situation that are not telling us that one car was a lot quicker than the other. In Silverstone [2018] Mercedes didn't win the race.
"So it's difficult to say that the thinner tread was giving a clear advantage to one car or another."
---