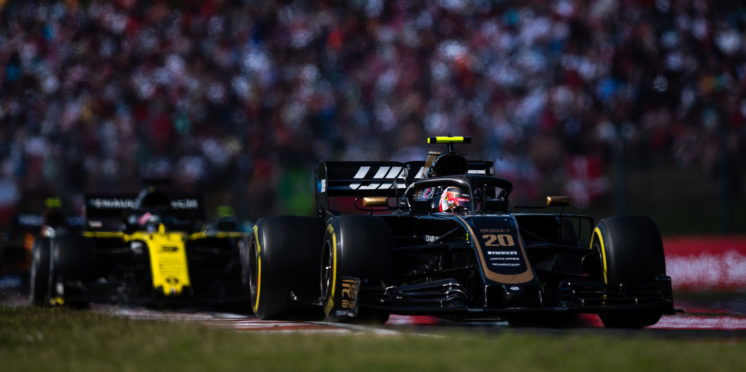 Steiner defends Magnussen's aggressive defence in Ricciardo duel
Kevin Magnussen's hard-fought defence whilst battling Daniel Ricciardo in Hungary didn't deserve more than a warning, believes Haas boss Gunther Steiner.
The Dane adopted an aggressive approach as he attempted to ward off an attack from Ricciardo for 13th place, defending his position abruptly which angered the Renault driver.
Ricciardo's complaints over Magnussen's driving was noted by the race stewards, with Haas informed by race control to warn its driver over his late change of direction in the braking zones.
Post-race Ricciardo felt a warning was "not enough" and that Magnussen should have received a harsher sanction, but Steiner brushed off criticism of his drivers aggression.
"Race control said he has to stop to move under braking, and that was it," said Steiner, as quoted by Motorsport.com.
"And because there is another driver who does it all the time and gets away with it, that was our answer!
"I think we had a good battle going on for 13th and 14th, otherwise the TV was pretty boring."
Despite receiving the warning from the stewards, Haas didn't order Magnussen to be mindful of his defensive tactics with the risk of a penalty.
"We decided to risk even penalty or getting to the stewards, because I think in the end we are here to race, and I don't think it was dangerous or anything," Steiner added.
"The battle was about nothing anyway, so at least it was a good show. And I think they had a good fight.
"For sure, Ricciardo is not happy about it, but I don't think Kevin did anything, you know, exaggerated. It's like he was trying to keep his position, so I think everybody enjoyed it."
---