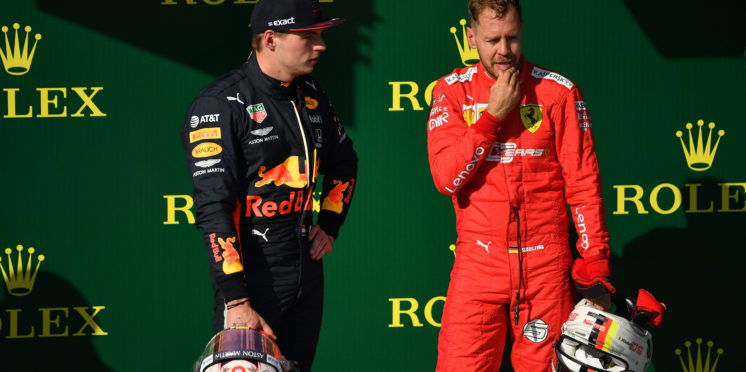 Vettel: One minute deficit 'fair' but not an 'eye-opener'
Sebastian Vettel concedes finishing one minute behind Mercedes during the Hungarian Grand Prix is a "fair" reflection of Ferrari's struggles but stressed it's not an "eye-opener" for the team.
The Scuderia's weakness in slow-speed corners was exposed around the Hungaroring circuit as it fell to over 60 seconds adrift of race winner Lewis Hamilton.
Vettel, who started from fifth on the grid, endured a race-long battle with team-mate Charles Leclerc, with a long first stint allowing him to close rapidly on the Monegasque in the latter stages and steal the final podium spot.
"I tried everything obviously but I can't be happy because we are not fast today," Vettel said reflecting on Ferrari's performance, as quoted by Crash.net.
"I think losing 60 seconds in 70 laps is probably fair, that's what we are missing. Maybe we didn't pick the absolute fastest strategy but we're just not quick enough today.
"A lot of homework for us. It's not really an eye-opener, we knew before. It's up to us to address it in the next couple of months to try and hopefully make a difference by the end of the year."
Vettel finds himself almost 100 points behind Hamilton in the drivers' championship standings after 12 races, while Ferrari languishes 150 points adrift of Mercedes.
The German remains optimistic up and coming power circuits after the summer break will favour the Italian outfit and reward them with a first win of 2019, but insists there are no "magic solutions" to its lack of speed in the corners.
"Of course there are always positives," Vettel said.
"On paper Spa, Monza should be a bit better for us but we need to confirm. We know that in the corners we struggle and the nature of race tracks, they have corners in them.
"So we would like to build a car faster in the corners. We are trying everything we can but currently it is not enough.
"I think everybody knows, everybody saw and everybody understands but it's not easy to come up with magic solutions.
"You always look for a silver bullet but I've never come across a guy that's actually found it in over 10 years. We keep looking though but that's where we are."
---