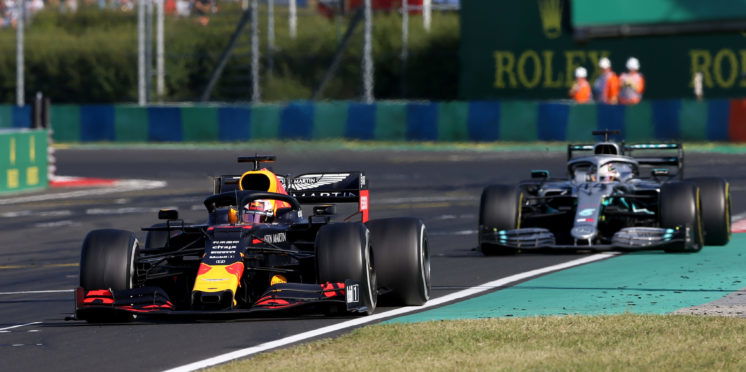 Verstappen: Hamilton's final stint charge proves Mercedes' dominance
Max Verstappen says Lewis Hamilton's ability to slash his 20-second lead within 20 laps proves Mercedes is still the dominant force in Formula 1 presently.
Hamilton switched to a two-stop strategy when Mercedes opted to roll the dice to outsmart Red Bull, leaving him with the task of reeling in Verstappen's sizeable margin.
The Briton set blistering pace on fresh medium tyres, taking 1.5 to two seconds out of Verstappen as he began to lose grip from worn rubber, before passing him for the lead with three laps to go.
"I think then you can see how much margin they [Mercedes] have when they really need to push," Verstappen said in the FIA post-race press conference.
"I think Lewis today was on fire as well, but then you see, once he really has to go for it you can see that that car is still the dominant car, it's as simple as that.
"Whereas in some races it's not as necessary. Of course they had their issues in Austria with overheating so you can't push.
"Of course in Hockenheim it was tricky conditions as well so you can't really drive to the limit of the car. But here today I think he had to go for it flat out, because I was also pushing flat out and then you can see what they are capable of as a team."
Asked if Red Bull were tempted to cover Hamilton's second pitstop, Verstappen replied: "It wouldn't have made sense because I would have been behind then so then you know the race is lost anyway.
"So the only option was for me to continue and that's what we did. Of course at one point I started to run out of tyres, I think trying to keep up with Lewis' pace on those medium tyres, trying to keep it within a second was almost impossible.
"And of course you can see it coming, so for me it was not a big disappointment once he passed me, it was just a normal thing to happen."
---