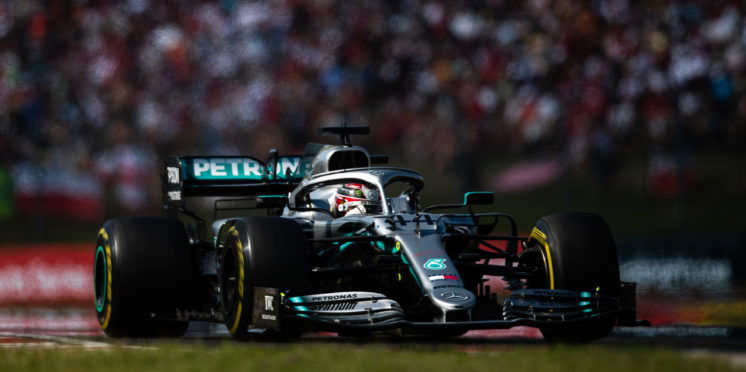 Hamilton was 'on the limit' on route to victory in Hungary
Lewis Hamilton admits he was "on the limit" of his cars potential as he wound in Max Verstappen during a tense climax to the Hungarian Grand Prix.
Hamilton started third on the grid but surged by team-mate Valtteri Bottas around the outside of Turn 2 on the opening lap, before he set about pilling the pressure on race leader Verstappen.
The five-time champion had a brief opportunity as he attempted to pass Verstappen on the outside of Turn 4, but was forced to yield in the battle.
Mercedes opted to catch Red Bull out by pitting Hamilton for a second stop for fresh medium tyres due to his inability to find a way past the Dutch driver – pounding in impressive lap times to eat into Verstappen's 20 second lead.
Using the extra grip from his tyres, the Briton swept around Verstappen at Turn 1 to steal first place three laps from the end, a lead which he wouldn't relinquish.
"[I feel] tired which is how it should be but I feel really grateful for the day and really for the team for continuing to believe in me and continuing to push to the limits and take a risk and a chance on me," said Hamilton.
"For a race to be able to push like that, I'm telling you I was on the limit all the way."
Despite his empathic last stint, Hamilton revealed he was suffering with front brake temperatures during his intense pursuit of Verstappen.
More often than not he was seen backing off by a couple of seconds to cool his car, but Hamilton was also concerned whether his tyres would go the distance.
"We'd had brake problems all weekend and having separation of the front temperatures and glazing, I was a bit worried," he said.
"We made some changes and it still didn't make a difference and naturally we get into the race and we have this problem so I was actually doing a lot of just lift and coast and not even touching the brake for half the lap.
"Of course the big stops you had to use it but I was trying to just save as much as I could for that time when I do get a chance.
"It was very, very difficult to get by, [Verstappen's] defence was great. They are quite quick on the straights. Honestly I didn't know if I could catch that 19-second gap.
"My tyres were going drop off – all these things going through your mind. But like the team said, just keep your head down so I just did and kept pushing and pushing and the gap closed and closed and closed. The laps were like qualifying laps every lap.
"My hat off to the team and I think if Niki [Lauda] was here today he would take his hat off."
With his eighth victory in 12 races, Hamilton now opens out a 62-point lead over Bottas heading into the four-week summer break.
---