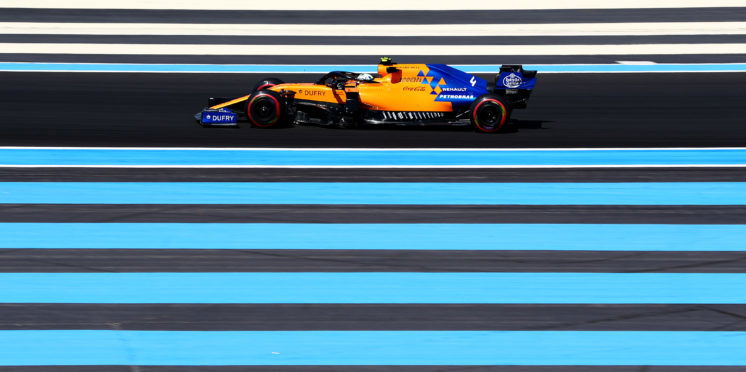 Norris: Strong qualifying result not aided by 'secret upgrade'
Lando Norris has quashed claims McLaren's third row lock-out in qualifying for the French Grand Prix was aided by a "secret upgrade".
The Woking-based outfit enjoyed its best qualifying result since the 2014 British Grand Prix with both cars cruising through to Q3, outpacing Ferrari's Sebastian Vettel and Red Bull's Pierre Gasly.
Norris managed to qualify ahead of team-mate Carlos Sainz to secure fifth place on the grid, ending up just 0.009s off fourth-placed Max Verstappen after the final runs in the session.
Renault's Daniel Ricciardo joked that McLaren's pace this weekend suggests its must have brought an upgrade, but Norris insisted it was pure performance.
"I'm happy. As a team result we've done very well," Norris told Sky Sports. "We're ahead of Vettel, I don't know if he made a mistake or something.
"I'm sure they're [Ferrari] going to be tough [to beat] tomorrow, but we're ahead of who we need to be.
"I've heard rumours that Renault are saying we have some secret upgrade which I wish we did because we'd be even quicker than we are now."
Norris admitted the overall result came as a surprise given how much McLaren had struggled in medium and high speed corners this season, highlighting the team's struggles back at round three in China.
"We came into hear thinking some of the corners like Turn 11, Turn 13 are a bit like China's Turn 1 where we were average.
"We weren't expecting anything at all. We thought this was going to be a very tough one. It's turned out to be better than we ever expected so we'll take the result today."
Asked if there was any incline into why the car was so hooked up around the Circuit Paul Ricard in particular, Norris replied: "It's something we need to look in to.
"We were very quick straight away in FP1 which was kind of worrying for us. It was almost too good. But we managed to continue it all throughout the weekend.
"We can go to Austria and we might not be in Q3. It's very track specific and this one seems to be suiting the car."
---