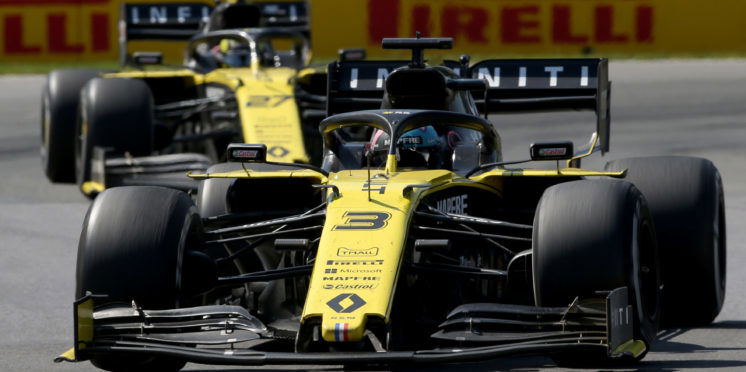 Abiteboul: Renault cannot 'dwell' on double points finish
Renault boss Cyril Abiteboul insists it cannot afford to "dwell" on its best result of the season in Canada as it looks to continue its upward surge in competitiveness.
The French outfit recorded its first double points finish this year in Montreal, elevating the team to fifth in the constructors' standings to within two points of fourth-placed McLaren.
Reliability woes in the first few races hampered Renault's performance but, after overcoming those issues, it is now able to extract more power from the engine.
Ahead of the team's home race at the Circuit Paul Ricard, Abiteboul confirmed Renault will introduce "several" chassis upgrades as it aims to carry forward the momentum from Canada.
"We enter the French Grand Prix on the back of a strong team result in Canada," said Abiteboul.
"We demonstrated our ability to recover from a disappointing start to the season in a controlled and professional manner.
"The execution of the weekend was good with Daniel [Ricciardo] and Nico [Hulkenberg] delivering strongly in both qualifying and race.
"The result, and the manner in which we achieved it, should give us the confidence and motivation to push on through a demanding period of races with five Grands Prix before the summer break.
"France is clearly an important milestone," he added. "Not only is it our home Grand Prix at Le Castellet, but also the opportunity to demonstrate a further improvement in our competitiveness.
"While Canada, a power sensitive circuit, underlined the gains made in engine performance, France will see the introduction of several development items on the chassis.
"One thing is clear: we cannot dwell on Montreal and to aim for a repeat of that result and keep striving to reduce the gap to the front."
Renault's first home race for 10 years at last year's French Grand Prix saw both cars secure points finishes in the first race at Paul Ricard for 28 years.
---