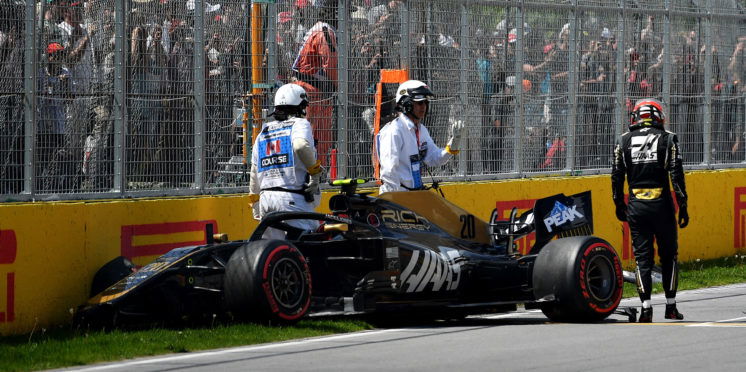 Steiner: Haas' luckless 2019 season 'cannot get any worse'
Haas Formula 1 team principal Gunther Steiner says the team's run of misfortune this season "cannot get any worse" after a "disastrous" Canadian Grand Prix.
The American outfit has endured a rotten run where opportunities to score big points have been wasted due to its struggle to adapt to Pirelli's thinner-tread 2019 tyres.
Despite often being the fourth-fastest team, Haas is three points behind its 2018 tally at the same stage as last year, sitting only eighth in the standings.
A miserable weekend in Montreal was compounded by Kevin Magnussen's crash in qualifying, forcing the Dane to start from the pitlane and finish 17th in what he described as his "worst experience in a race car".
Romain Grosjean was caught up in Alex Albon's first-lap tangle with Sergio Perez, running over the Thai driver's front wing before coming home in 14th.
"We cannot catch a break," said Steiner, as quoted by Motorsport.com. "It was one of those disastrous weekends, it started in Q2, and didn't finish.
"The only thing we can do is regroup and try to do better next time around.
"There must be an end to it. I think there is a point where you can't get more annoyed – I wouldn't say even depressed, because you don't get depressed – but there must be an end, there must be an upward trend somewhere, because you cannot get any worse. I hope that point comes soon."
Steiner insisted Grosjean would not have made the points-paying positions even if he had avoided the Turn 1 crash, with the cars pace unpredictable all race.
"It was up and down, his pace. A few laps it was going, then it wasn't going," Steiner explained.
"It was completely all over the place. It isn't like if he wouldn't have had that [first lap problem], we would have finished in the points anyway. Maybe closer to 11th or 12th."
---