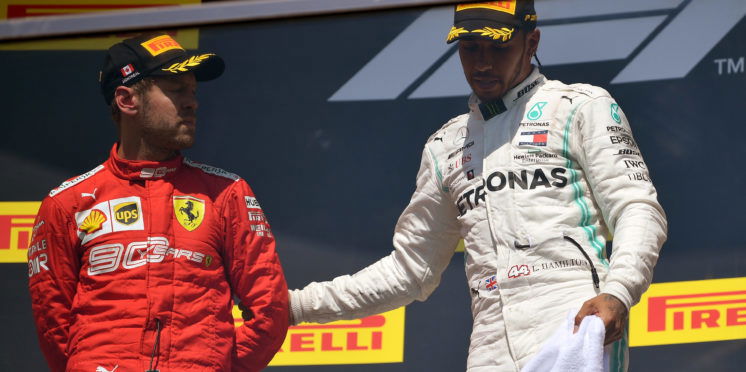 Hamilton: I would have done the same as Vettel
Formula 1 world championship leader Lewis Hamilton admits he would have done the same as Sebastian Vettel in the incident which denied the Ferrari driver victory in the Canadian Grand Prix.
Vettel was penalised by race stewards after going off the track while under pressure from Hamilton and re-joining in an unsafe manner that forced the Briton to avoid a collision.
The German vented his anger at the decision post-race, commenting the current F1 rules lack "common sense" and his penalty as a "funny decision".
"I watched the replay, it was obviously very close," said Hamilton, as quoted by RaceFans.net. "What I can say is that if I was in the lead and I made a mistake and went wide I probably would have done the same thing because it happened so quick and you're just trying to hold your position.
"When I say I would do the same, I would try to squeeze him too. That's ultimately what happened.
"As a driver, things go wrong you're like 'oh shoot' and you try and squeeze so that you don't lose a position.
"It's a natural instinct that you have. You're not going to go 'actually I better pull to the left and let everybody go by'. He did block me but unfortunately he went off-track and the way the rules are that's how it's described."
Hamilton endured a similar scenario to Vettel at Spa in 2008 when he was handed a post-race time penalty for leaving the track and gaining an advantage.
Asked to compare Vettel's penalty with his own sanction, the five-time champion dismissed any relation between the two incidents.
"I don't think you can relate it necessarily to 2008, because in 2008 I made an error," he explained in the post-race press conference.
"Obviously I overtook someone off track and then had to let them past and then overtook them again but back then, my team asked Charlie [Whiting, race director] whether the overtake was OK.
"Charlie came back and said it was totally fine, but if he had come back and told us at the time that it wasn't OK, I would have let him back past and overtook him again.
"But the rest of that race was crazy, you know. I went off, he overtook me and then he spun and then I overtook him again and then he crashed and then I won the race – and I still got penalised at the end.
"So it was a lot different, but I do understand what it's like to naturally lose a race. It's definitely not the way you want to win a race.
"It's not the way you want to lose a race also, especially when you've driven so well."
---