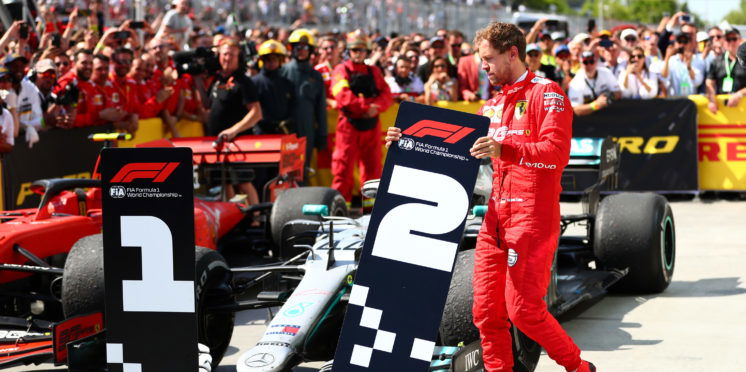 Vettel: Penalty decision damaging F1's popularity
Sebastian Vettel says the steward's decision to hand him a five-second time penalty for impeding Lewis Hamilton in the Canadian Grand Prix is risking killing the popularity of Formula 1.
The German suffered a sudden snap of oversteer at the first chicane while leading on Lap 48, causing him to momentarily lose control of the car and cut the corner.
The race stewards concluded after a review of the incident that Vettel had re-joined the circuit in front of Hamilton at Turn 4 in a dangerous manner, forcing the Briton off the track in avoidance.
Despite Vettel crossing the line in first, the time penalty, once applied, reversed the result, handing Hamilton the race victory.
Vettel vented his frustration at the decision on the slow down lap over team radio.
"You need to be an absolute blind man to think you can go through the grass and then control the car," he said. "I was lucky I didn't hit the wall. Where the hell am I supposed to go?
"This is a wrong world I tell you. This is not fair."
Vettel refused to drive his car into parc ferme as the rules permit before storming through the FIA garage and into his team's hospitality area.
After a brief delay, Vettel was ushered back to complete the usual post-race procedure and take to the podium to collect his trophy.
Asked about his thoughts on the penalty, Vettel said: "It's not making our sport popular is it with these kind of decisions?"
"People want to see us race and that was I think racing. I hope the people come back, that's the main thing obviously.
"They're the reason why we're able to put this show on and build these incredible cars. It's just a shame when we have all these funny decisions.
"I think we really deserved to win today. I think that's our opinion. I think the people's opinion out there as well… It's a bit weird now to be honest. I don't know what else to say.
"I really enjoyed the race, I enjoyed the crowd, every lap seeing them cheer me on, especially round the hairpin. It was very intense. Lewis was a bit quicker throughout the race but we were able to stay ahead.
"For the rest, I think I've said enough. You should ask the people what they think. I think we had a great show. Lewis showed some great respect. Ask the people."
---