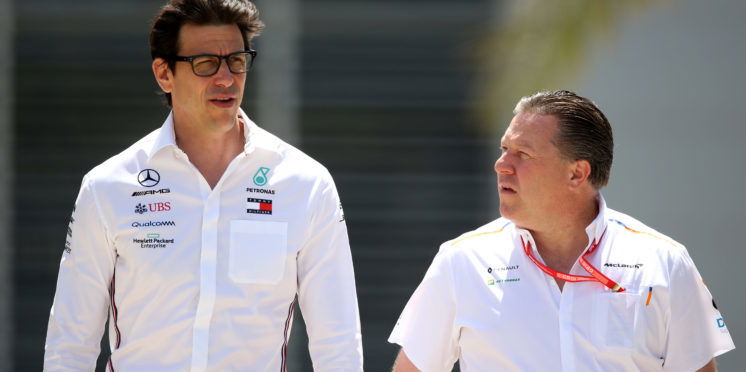 Brown: McLaren starting to adopt similar qualities to Mercedes
McLaren Formula 1 CEO Zak Brown believes the team is beginning to possess qualities similar to those that have made Mercedes a dominant force in the sport.
The Woking-based outfit's uncompetitive end to 2018 forced it to incorporate a major restructure over the winter, with new technical chief James Key and team principal Andreas Seidl brought on board.
Mercedes has claimed five world championship doubles on the bounce since 2014, and Brown sees the team heading in same direction as the Silver Arrows after being left encouraged by the impact of the changes.
Asked what key areas at McLaren he'd seen particular progress in this season, Brown said, as quoted by Motorsport.com: "Teamwork. If you look at things like winter testing, I was very pleased to see we were out first team out seven of eight days.
"When we had an issue we got right back to being next team out. Pitstops are really strong. We've had some technical advancement there, that's just teamwork and focus. There's a very positive vibe.
"The biggest thing I've noticed is everyone's clear on their role, everyone's motivated, and working really well together. That's why you're seeing things like good pitstops and good preparations.
"It's teamwork that produces that type of results. Andreas is just going to bring another level of clarity to roles and responsibilities and focus.
"If we look at Mercedes winning all the races, yes they've got a great budget, but they are also a phenomenally well-run racing team so they can do the pitstops they pull off. They seem to not have bad weekends. That's a great racing team. That's what I'm starting to see here and Andreas is going to make that even better."
Brown insisted he has no plans to make further personnel signings, adding that he fully supports Seidl as he begins work to return McLaren to the top.
"From my leadership standpoint I'm done, I've got what I want and am very pleased with it," Brown said.
"I landed everyone I wanted to land. I don't feel like I got second-best in any of them. What Andreas ends up doing with the racing team is up to Andreas and he has my full support."
---