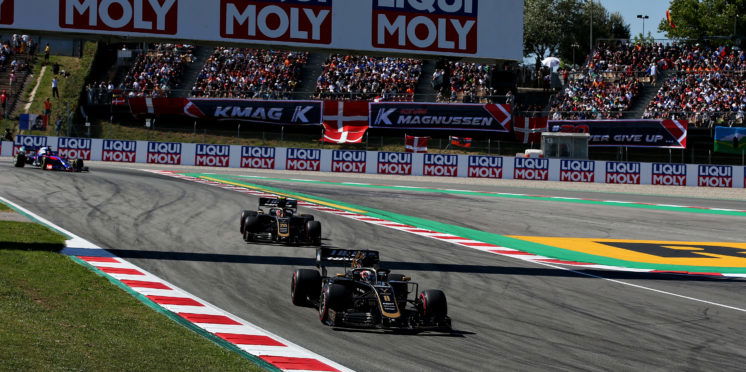 Haas drivers 'cleared the air' after on-track clash in Spain
Haas team principal Gunther Steiner says he felt it was necessary to hold "clear the air" talks with drivers Romain Grosjean and Kevin Magnussen following their heated battle at the Spanish Grand Prix.
The pair were embroiled in a scrap for seventh position after the safety car restart when Magnussen overtook Grosjean into Turn 1, forcing the latter wide onto the run-off strip.
Four laps later Grosjean attempted to reclaim the place but made contact with the Dane, once more taking to the escape road.
To avoid friction between his drivers, Steiner called a post-race debrief to talk over the incident before addressing the media.
"The debrief wasn't difficult. I spoke to both drivers, I wanted to clear the air. We cleared the air, we are OK," Steiner said, as quoted by ESPN.
"It is neither here nor there and I told them 'I'm not sitting here until midnight looking at videos to see whose fault it is'.
"We need to learn from this and move forward. We got away quite lucky even if we lost some points. In the end we still had two cars in the points, which is always good."
Despite admitting clashes between team-mates are inevitable from time to time, Steiner emphasised he wants the team to move forward from the incident.
"They have a good relationship between the two of them," he said. They had that before and I wanted to make sure there is nothing said from one of them which upsets the other one.
"I got them both straight after the race. We talked it through maybe for 15 minutes and we said 'We move on from this and don't do it again.'
"We cleared the air and this happens, it's racing. Stuff happens like this and we move on… It's a nice thing to have but the negative is we lost some points. But it's better like this if we fight for points.
"Can I promise that they won't do it again? No."
---