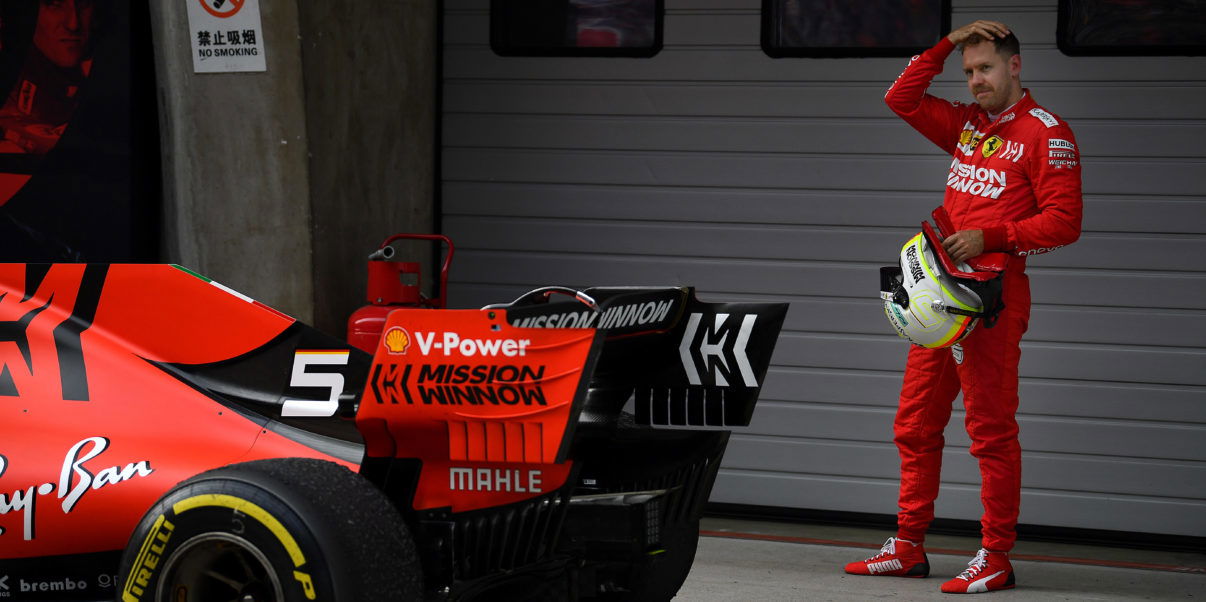 Vettel urges Ferrari to 'unlock' very strong 2019 car
Sebastian Vettel believes Ferrari is slowly gathering an understanding of how its 2019 car behaves but has urged the team to "unlock" its full potential.
The four-time world champion secured his first podium of the season in China, albeit 13 seconds off race-winner Lewis Hamilton at the chequered flag.
Ferrari looked odds on favourite after a successful pre-season but were shocked by how far it was off the pace at the season-opener in Melbourne.
Although it rediscovered its form in Bahrain, the Italian outfit failed to challenge Mercedes on race day in Shanghai and Vettel admits he still hasn't found his sweet-spot in the SF90 since testing.
"We have a very strong car. There's nothing wrong with it, but I think we're not able to yet put it in the window," Vettel said, as quoted by RaceFans.net.
"Especially for myself, here and there, I'm not entirely happy yet compared to where we started off.
"Obviously the three tracks we've been to now are quite different, the conditions we had are different. But I think we start to see a sort of pattern and understand, especially throughout a grand prix distance, what we need, what I need, to really unlock this car.
"I think these couple of weeks and the next weeks will be very important for us to understand where we need to go in the next months. Clearly today we were not as fast as Mercedes.
"Bit of a shame we couldn't get third and fourth but overall I think we optimised. There were stages in the race where we were strong, and stages of the race where we were weaker compared to where we wanted to be."
Mercedes has marched on to three successive one-two finishes to open out a considerable margin in both championships.
Although the gap to the Silver Arrows was not as convincing as in Australia, Vettel says there is specific areas on the car which are still "too weak".
"Obviously Mercedes had a good run with the first three races," he said. "I think in Australia we struggled with the conditions, and probably set-up. I think we learned our lessons for Bahrain, it was a lot better.
"Still, here and there, there are some parts of the race where we are too weak and I think it showed again this weekend.
"I think we can be very happy with where we are on the engine side. It seems to be strong. I think overall our car is working and there's nothing wrong with it – but I think it's just about placing it in the right window and then being able to extract the performance that the car has, which I think Charles was able to show in Bahrain more than myself.
"It seems to be there somewhere but at the moment seems to be a bit more difficult to find where it is, to be able to be a fair match to Mercedes at this point."
---