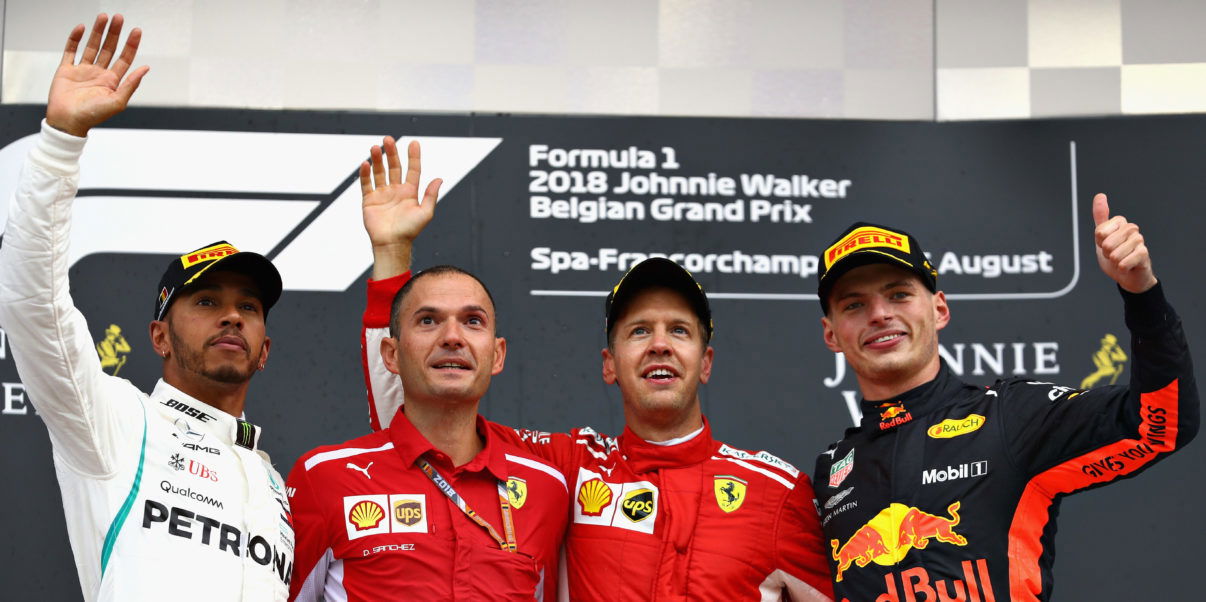 Driver Ratings: 2018 Belgian Grand Prix
Sebastian Vettel's victory for Ferrari in the 2018 Belgian Grand Prix was a dominant drive and one which prompted a surprising admission from Lewis Hamilton.
Having had his points lead over Vettel eroded from 24 points to 17, Hamilton stated after the race that Mercedes "need more power" in order to repel the intense threat now posed by Ferrari.
Judging from the manner in which Vettel simply drove passed Hamilton on the long run up the hill towards the Les Combes chicane, it does seem as though Ferrari now quite conclusively owns the best power unit in Formula 1.
His race defining overtake on polesitter Hamilton was well-timed, with the move completed just prior to the deployment of the safety car as a result of a dramatic first corner accident.
Fernando Alonso was rear-ended by Renault's Nico Hulkenberg. Alonso's McLaren was launched into the air, landing on top of Charles Leclerc's Sauber with the driver protected by the halo device.
Here are our DRIVER RATINGS for the 2018 Belgian Grand Prix.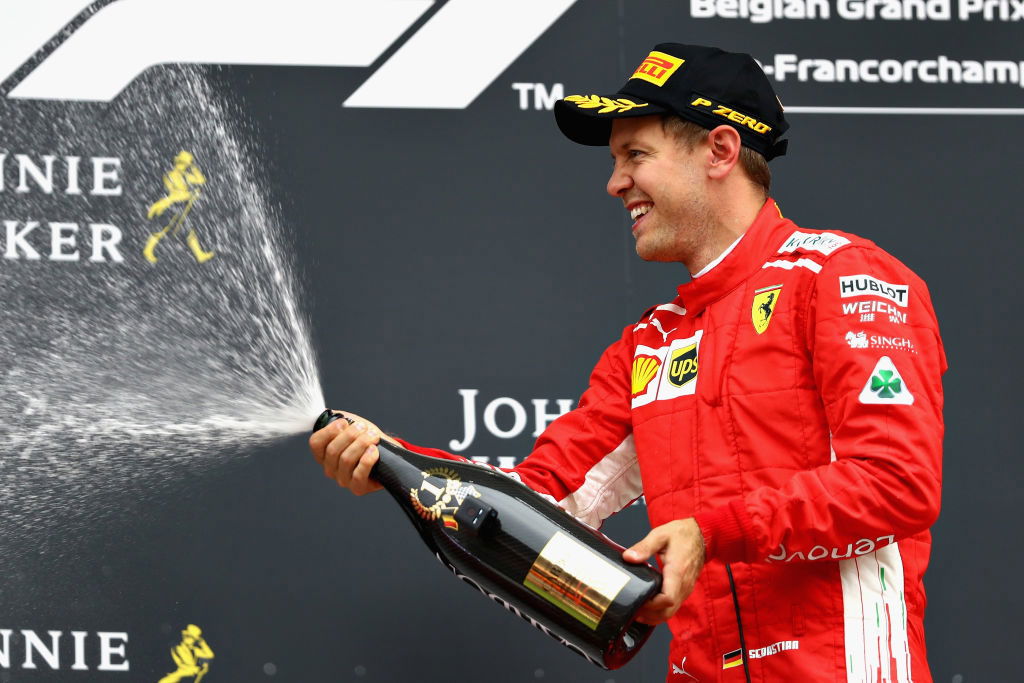 Sebastian Vettel - 9
Qualified – 2nd
Finished – 1st
Qualifying within 0.8 seconds of Hamilton to join him on the front row was a strong effort from Vettel considering that ERS mismanagement meant that he was without battery power on his final Q3 run. The race was a Vettel masterclass in controlling the race from the front after he had vaulted ahead of Hamilton on the first lap run towards the Les Combes chicane – echoes of the 2013 Belgian Grand Prix.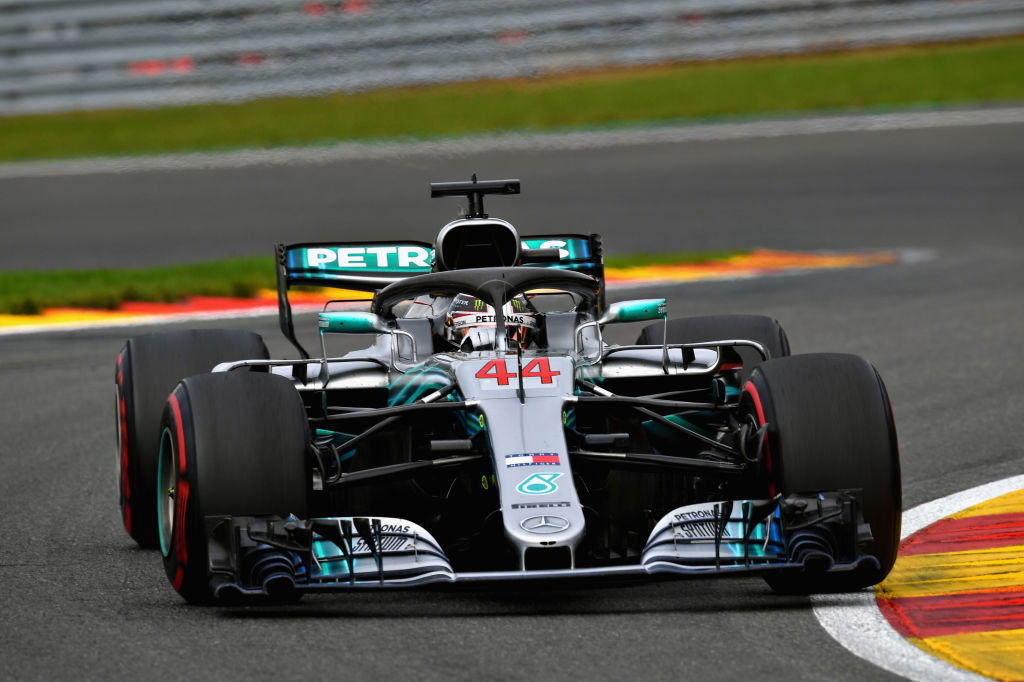 Lewis Hamilton - 8
Qualified – 1st
Finished – 2nd
As it was in 2013, pole position turned out to be a poison chalice for Hamilton. Vettel was the faster of the two title protagonists and while Hamilton's outlap after his pitstop was exceptional, it was still not enough to edge ahead of the plain-faster Ferrari. "We need more power" is something that we did not expect to ever hear from a Mercedes driver in the hybrid era and is a testament to how far Ferrari has progressed.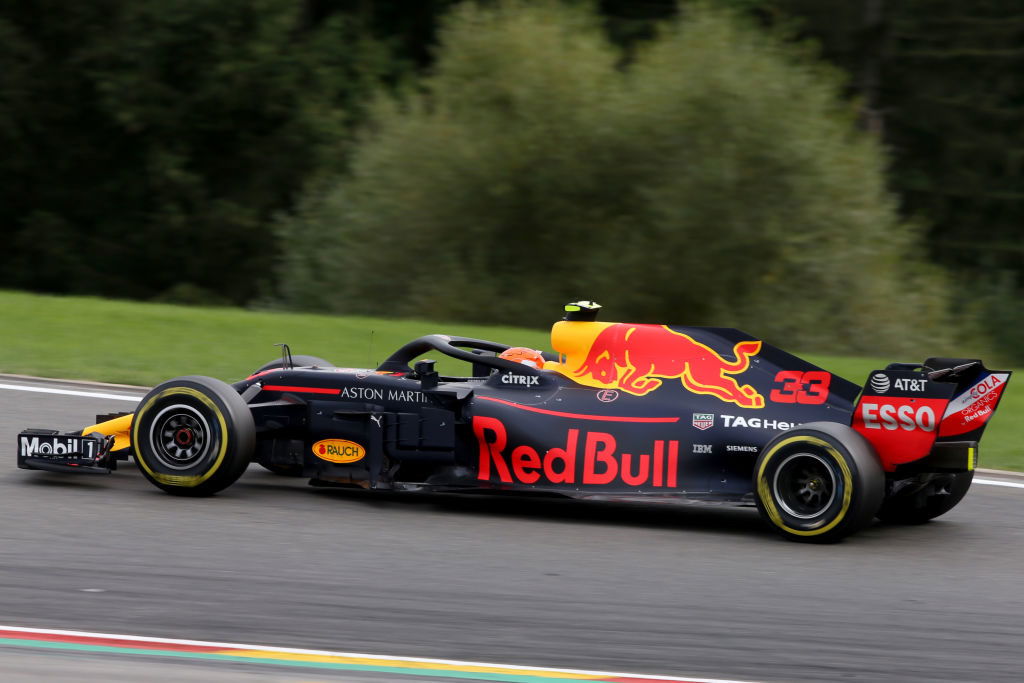 Max Verstappen - 8
Qualified – 7th
Finished – 3rd
Finishing behind the Mercedes' and Ferraris was somewhat of an inevitability for Red Bull this weekend, with its Renault-power deficiencies painfully obvious on a circuit lapped at 70% full throttle. As a result, third place and a lonely race was the best case scenario for Verstappen after a strategic misstep by the team during qualifying left him seventh on the grid.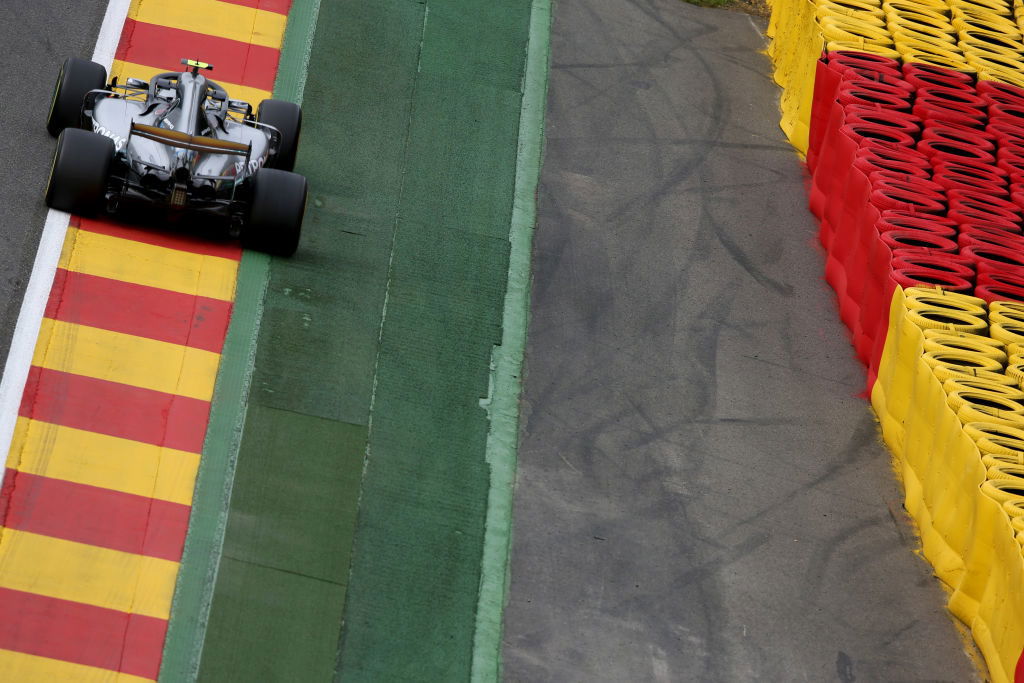 Valtteri Bottas - 7
Qualified – 10th (started 17th)
Finished – 4th
With a brand new power unit fitted to his car – his fourth of the 2018 season – Bottas started the race in 17th. He was aggressive in his fightback through the field, with his race headlined by an audacious move on Brendon Hartley around the outside of Eau Rouge. However, Bottas made mistakes in Belgium – luck was on his side when he spun at Blanchimont in the deteriorating conditions at the start of Q3. He also picked up a five-second time penalty for clumsily sliding into the back of Sergey Sirotkin's Williams at Turn 1 on the first lap.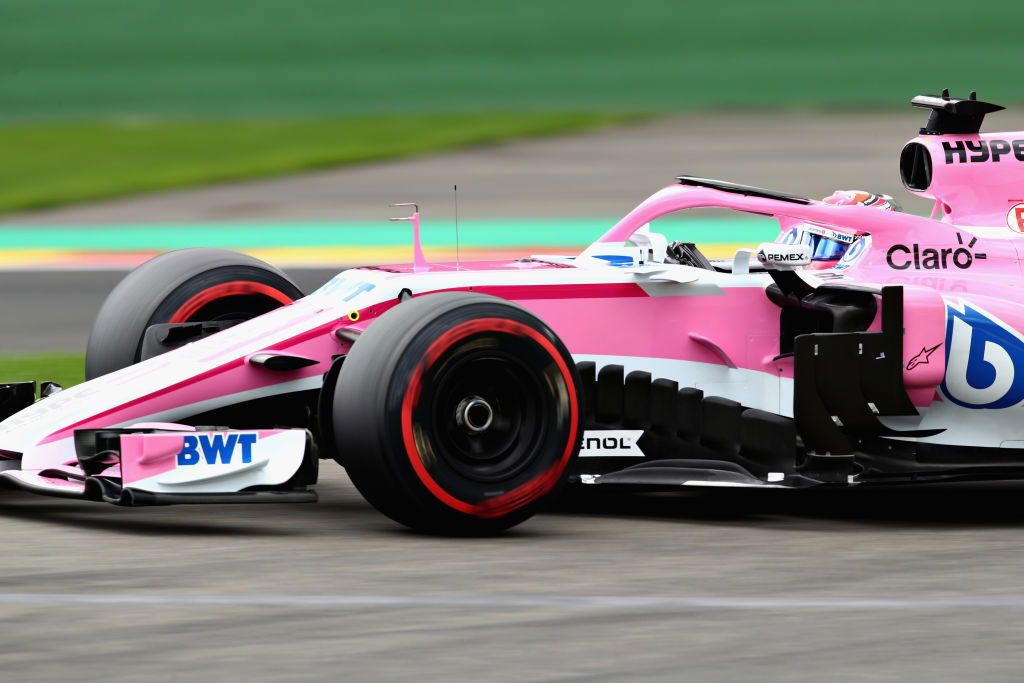 Sergio Perez - 9
Qualified – 4th
Finished – 5th
Had he crossed the line three seconds sooner in Q3, Perez would have been the last driver to start his final lap and could easily have grabbed his first career pole. Fourth place on the grid was still a great return, especially considering the car control required to keep the car out of the barriers at Eau Rouge when navigating the damp circuit on slicks. Smart driving into Les Combes meant that Perez not only avoided a clash with Hamilton's Mercedes but also passed team-mate Ocon in the process. This was Perez's best weekend of the season.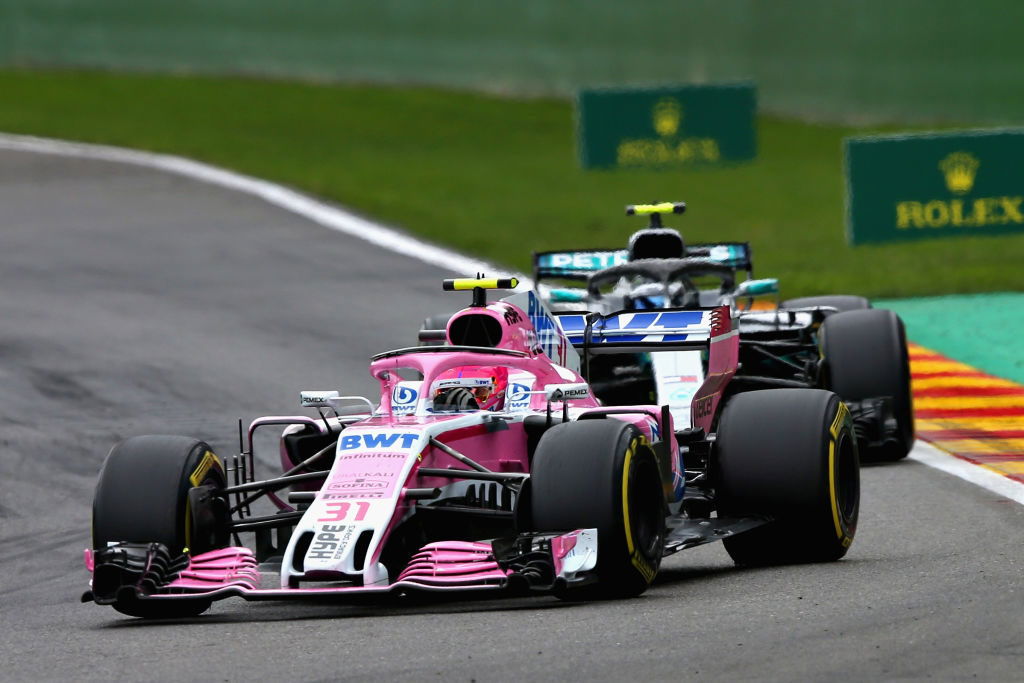 Esteban Ocon - 9
Qualified – 3rd
Finished – 6th
Ocon's Saturday was a showcase of his car control and ability to remain calm under pressure. At the start of the race he had an opportunity to take the lead with incredible momentum heading into the Les Combes chicane. Backing out and settling for fourth at the time was a sensible decision, but with an inside line on Vettel, added bravery on the brakes may well have propelled Ocon into the race lead. We will never truly know what would have happened in that scenario.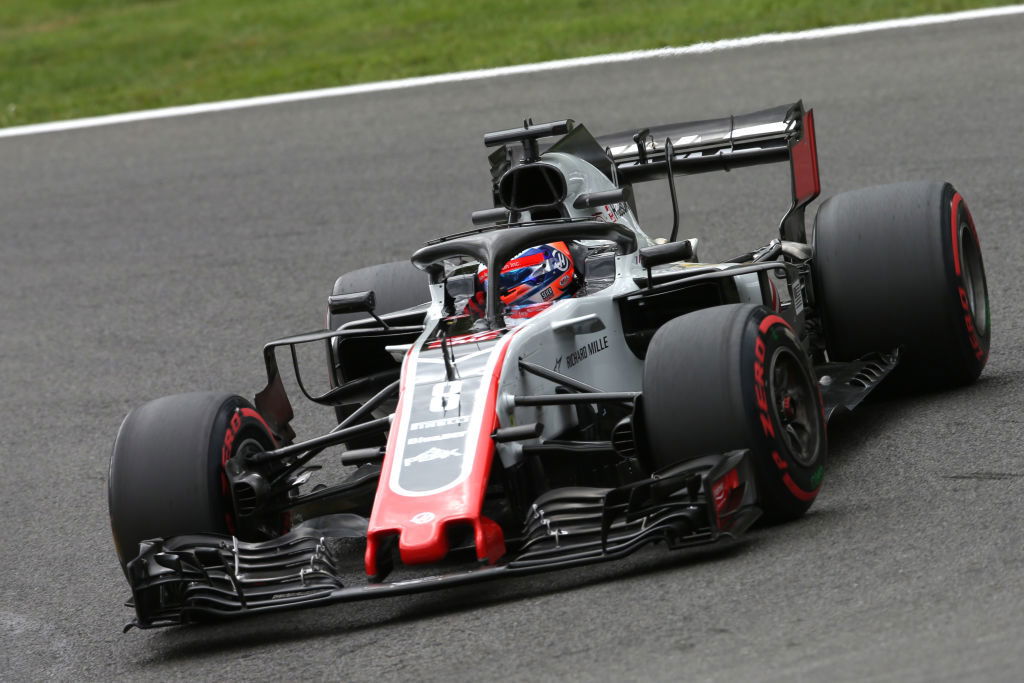 Romain Grosjean - 7
Qualified – 5th
Finished – 7th
A well-timed final run in qualifying helped Grosjean to fifth on the grid. In the race, his start was suboptimal but he was always set to concede a position to the simply faster Red Bull of Verstappen. Grosjean did lose touch with the Force Indias, but that was largely a product of car performance as oppose to his shortcomings. Haas and Grosjean improved significantly over the course of the weekend.
Kevin Magnussen - 7
Qualified – 9th
Finished – 8th
Magnussen was one of the drivers left wrong-footed by the Q3 conditions and that condemned him to ninth on the grid. Eighth place in the race was the result of a solid drive, but after having executed a solid start and avoided the Turn 1 drama, Magnussen could have expected to pose a greater challenge to team-mate Grosjean in the race. As it was, the Frenchman was comfortable.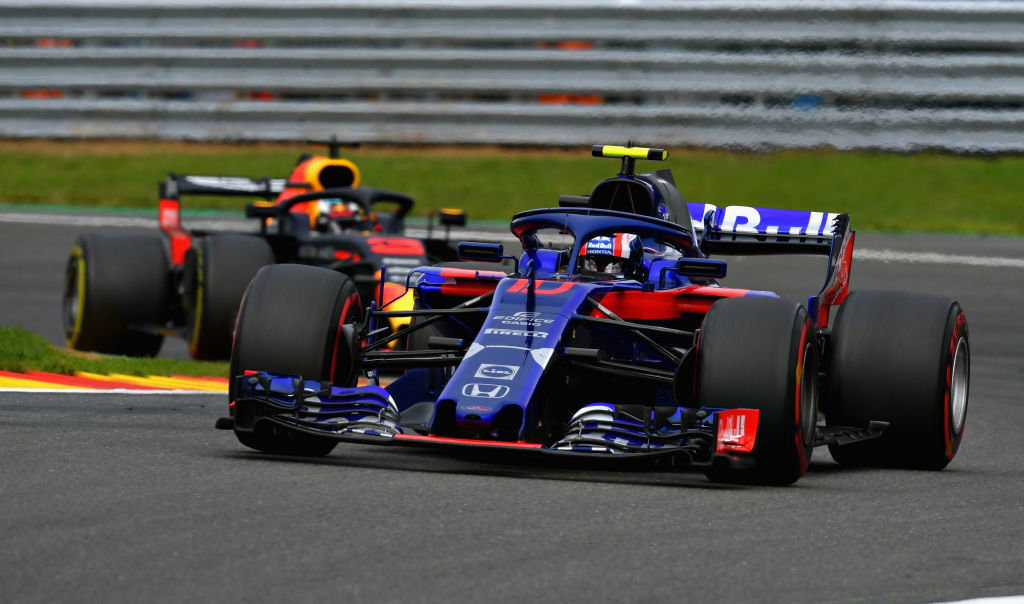 Pierre Gasly - 9
Qualified – 11th
Finished – 9th
At a power-dependent circuit, Pierre Gasly's pace in the Honda-powered Toro Rosso was very impressive this weekend. Team-mate Hartley posed a threat in qualifying, but Gasly's race pace was sublime. He stole a march on Sauber's Ericsson and managed the gap over the course of the second half of the race to ultimately claim a comfortable ninth place finish.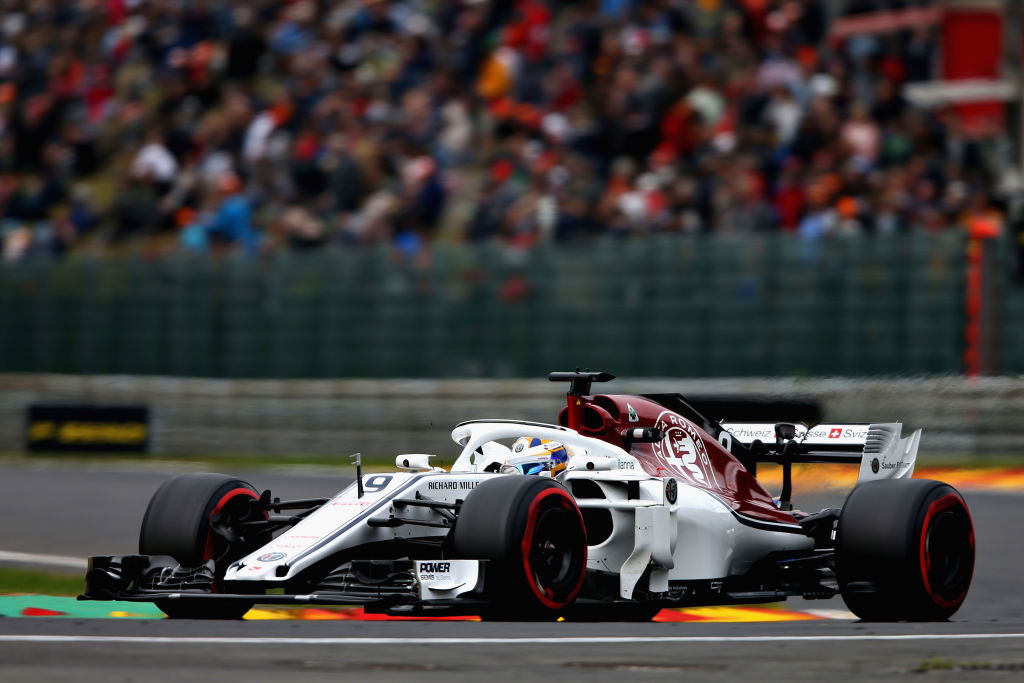 Marcus Ericsson - 7
Qualified – 14th
Finished – 10th
A power unit issue in qualifying was unfortunate for Ericsson who was aiming to keep the Saturday season-long head-to-head battle with his team-mate Leclerc alive. After the disappointment of losing out, Ericsson delivered a solid race to score a point. It could have been two, but he lost too much time battling Hartley after his pitstop. On fresher tyres, Ericsson should have dispatched Hartley sooner – he lost close to seven seconds in the process and in turn, a shot at ninth place.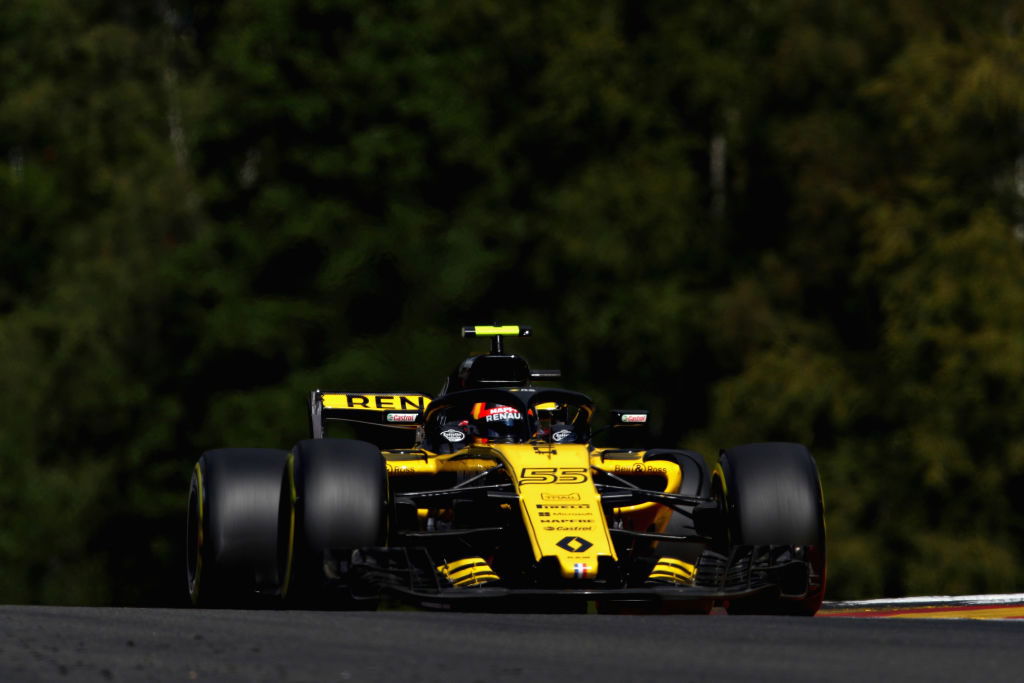 Carlos Sainz Jr - 5
Qualified – 16th (started 19th)
Finished – 11th
A curious balance issue developed after Friday which significantly hampered Sainz's weekend. In qualifying, he was eliminated in Q1 for the second time in four races, complaining of "no rear grip." Starting the race from the back of the field after Renault opted to fit a fresh power unit, Sainz struggled to make progress, with poor pace in sector three often meaning that he missed out on the use of DRS in sector one.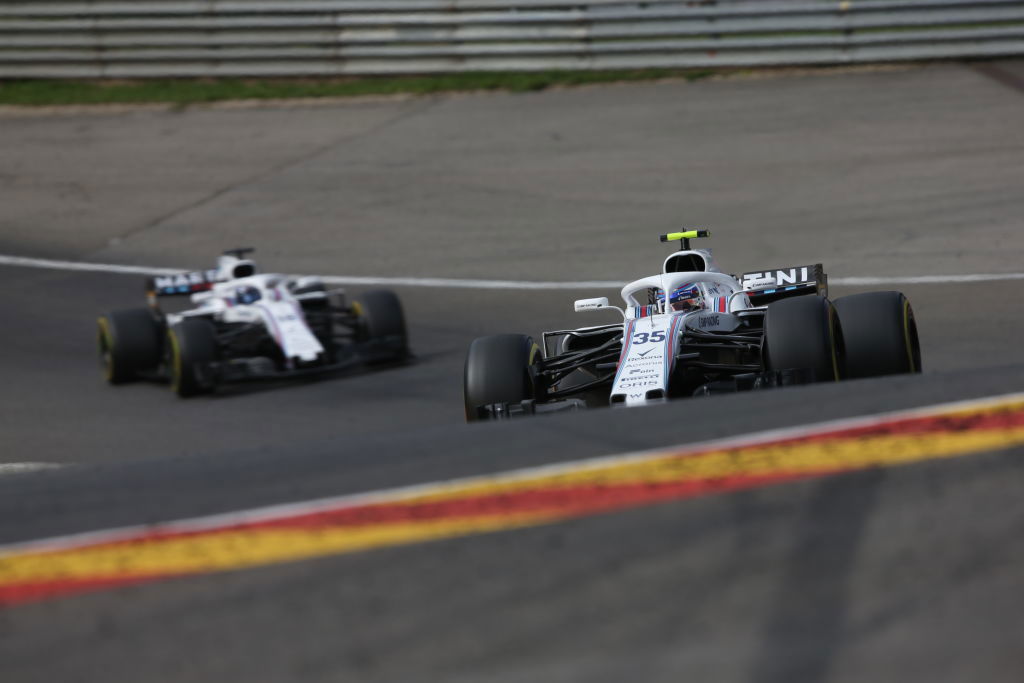 Sergey Sirotkin - 7
Qualified – 18th
Finished – 12th
Sirotkin's ever-improving form continues to fly under the radar in 2018. The rookie outqualified and out-raced team-mate Stroll this weekend as well as taking a forceful approach to wheel-to-wheel combat with the sister Williams at the safety car restart. Sirotkin was ninth at one point, marking the first time this season that he has occupied a points scoring position. Plenty of positives to take away from a solid weekend in what continues to be a difficult car.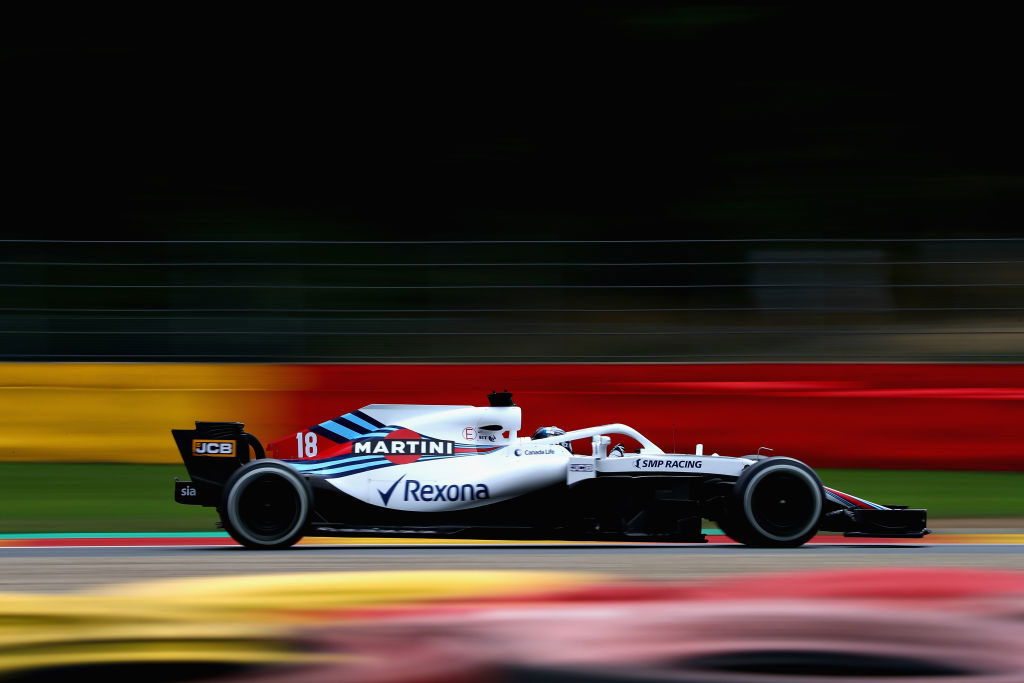 Lance Stroll - 5
Qualified – 19th
Finished – 13th
Stroll had a busier weekend off-track as opposed to on it. Speculation linking him to a seat at his father's newly-acquired Force India squad, Stroll had to answer plenty of rather awkward questions while wearing a Williams polo. He was outqualified by Sirotkin and was around two seconds adrift of his team-mate for the majority of the race.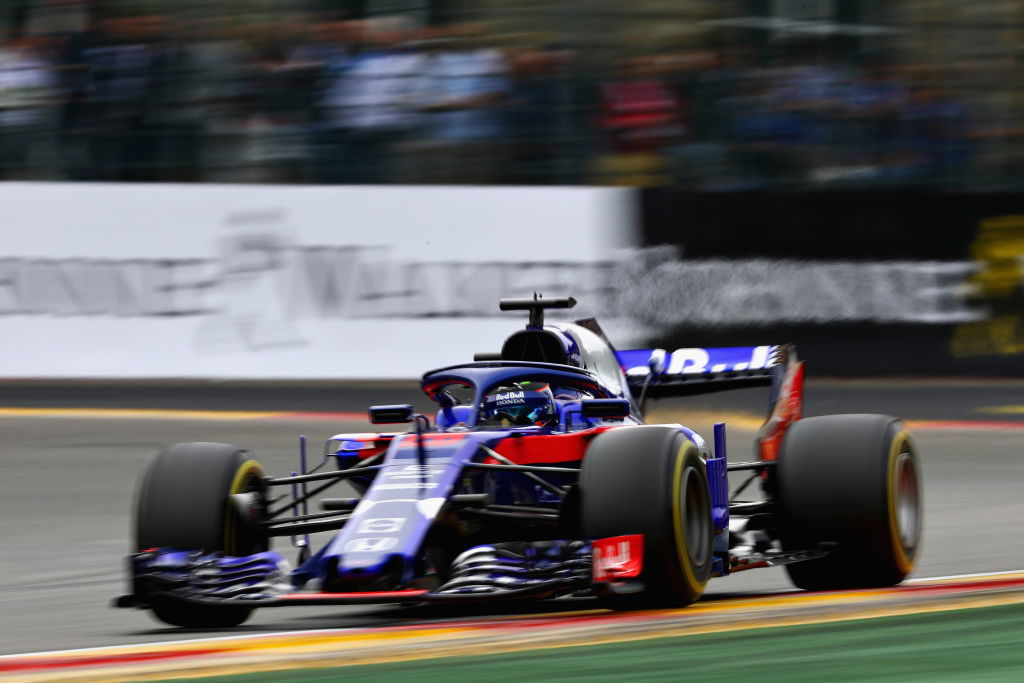 Brendon Hartley - 6
Qualified – 12th
Finished – 14th
A 14th place finish for Hartley was decidedly unspectacular, however, his Belgian Grand Prix weekend did have some positives. In qualifying, he was only 0.02s behind Gasly. In the race, by prolonging his battle with Ericsson, Hartley effectively secured Gasly in the ninth place by holding up the Sauber driver.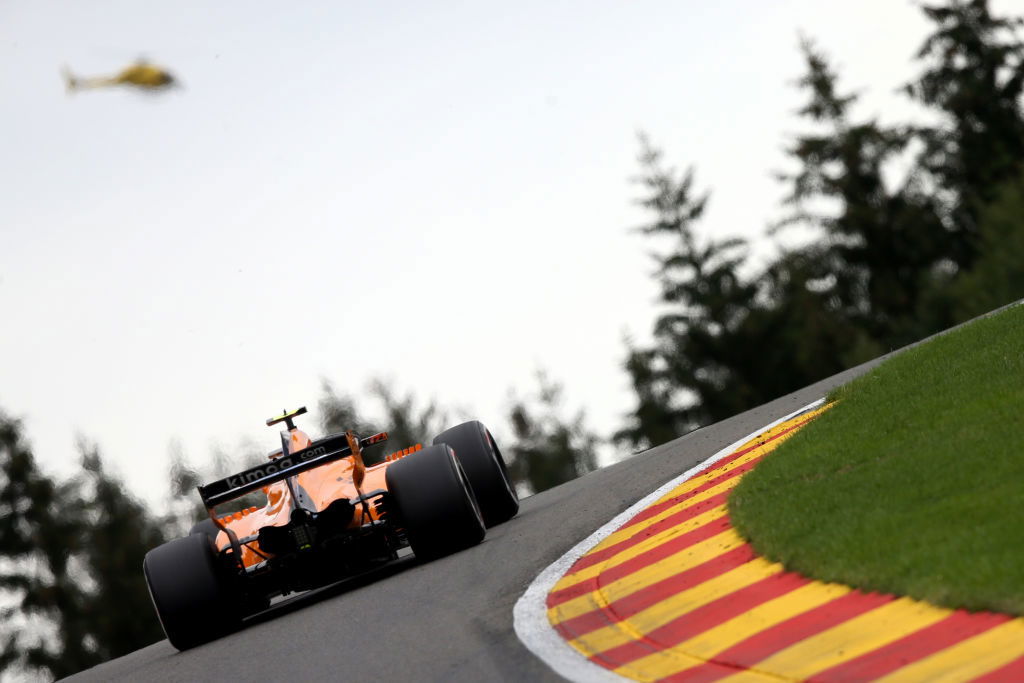 Stoffel Vandoorne - 4
Qualified – 20th
Finished – 15th
Finishing bottom of the timesheet in every session and last of the finishers in the race, Vandoorne's home grand prix was somewhat of a disaster. McLaren's inefficient MCL33 was in full-view and despite trading tows in qualifying, neither Vandoorne nor Alonso were close to progressing to Q2. Car performance was a critical factor influencing Vandoorne's weekend, but that doesn't account for the full extent to which he was uncompetitive.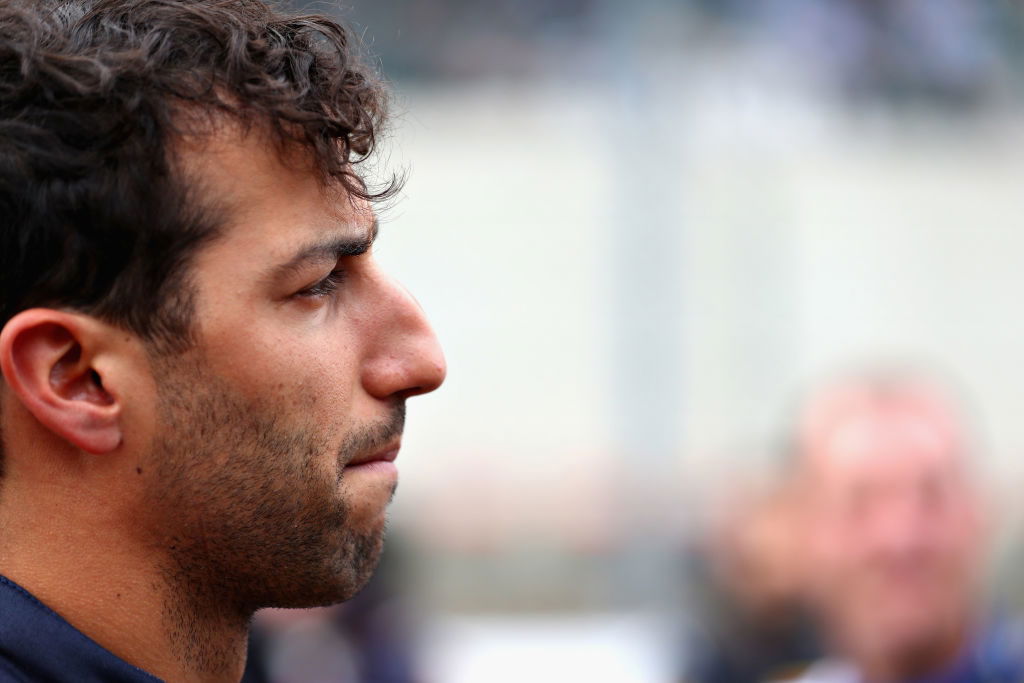 Daniel Ricciardo - 5
Qualified – 8th
Finished – DNF
Ricciardo's weekend was a challenging one even prior to his rear wing being disintegrated as the collateral damage in Alonso's acrobatic accident. Verstappen had the measure of Ricciardo throughout practice and outqualified the Aussie by half a second. Ricciardo was not comfortable with the balance of the car in practice and it failed to improve as the weekend progressed.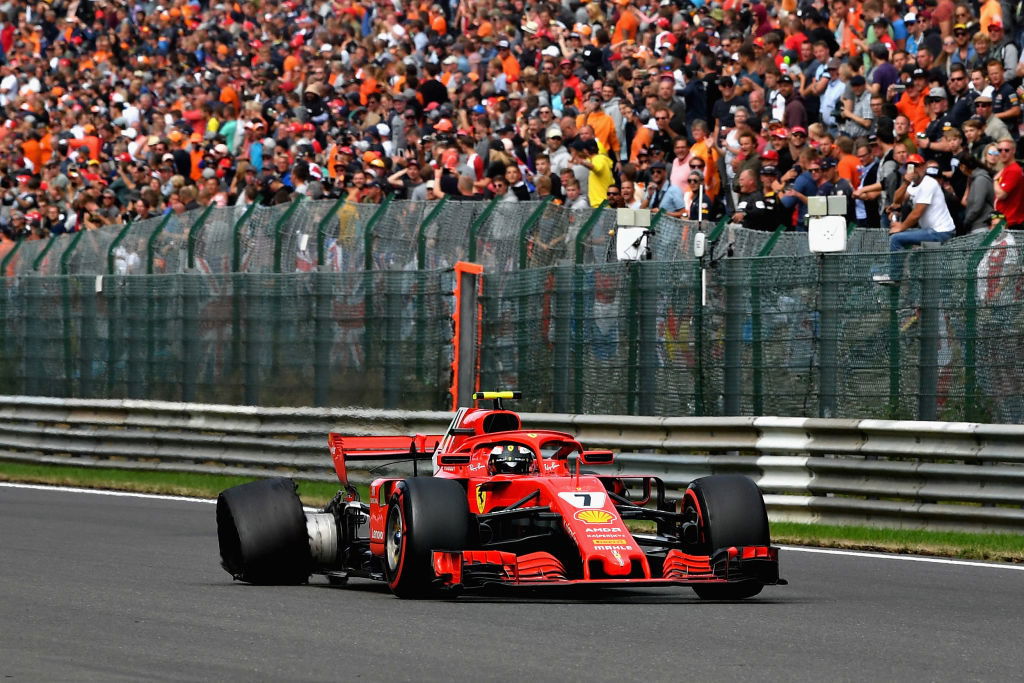 Kimi Raikkonen - 7
Qualified – 6th
Finished – DNF
For a while, it looked as though the King of Spa had returned to rule – Raikkonen has previously claimed four victories in Belgium and topped the FP2 timesheet to underline his raw speed early in the weekend. In qualifying, Raikkonen seemed to be Vettel's prime opposition for pole having finished second behind the German in Q2. However, Ferrari's strategic mistake in Q3 proved costly for Raikkonen. It ultimately ruined his weekend as he found himself in the carbon fibre zone at Turn 1 and was an innocent victim of the Hulkenberg triggered chaos.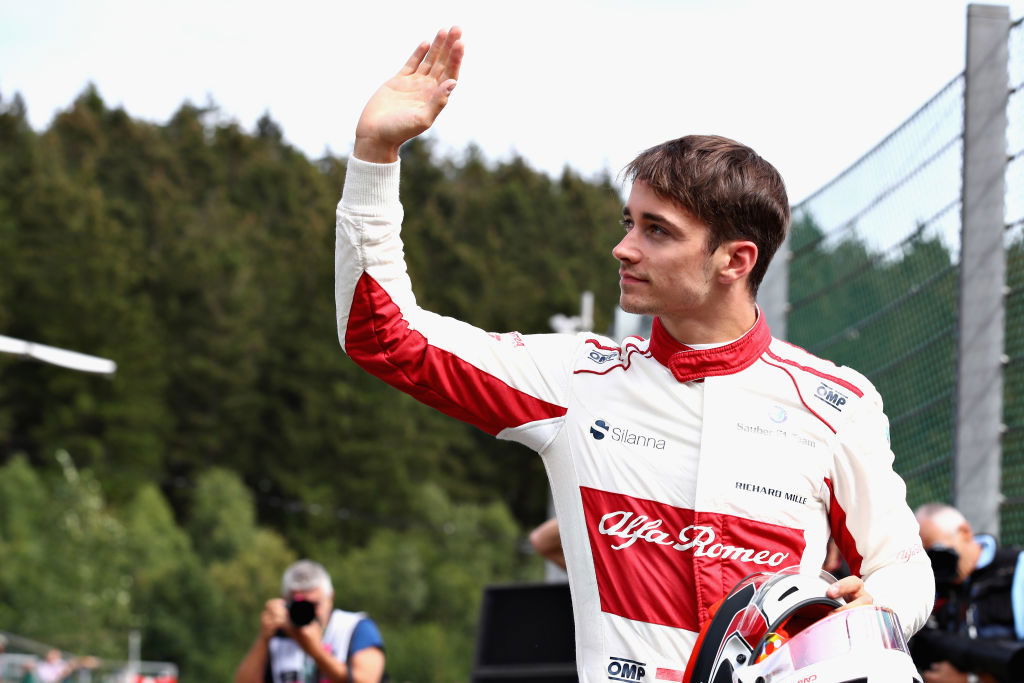 Charles Leclerc - 6
Qualified – 13th
Finished – DNF
Leclerc's weekend up until he became Alonso's launch ramp was rather uneventful – his qualifying result was solid if unspectacular. If anything, Sauber underachieved in qualifying based on Leclerc's practice pace, which had suggested that Q3 would be possible. His part in the Turn 1 collision was unfortunate and robbed Leclerc of a strong opportunity to add to his 2018 points tally.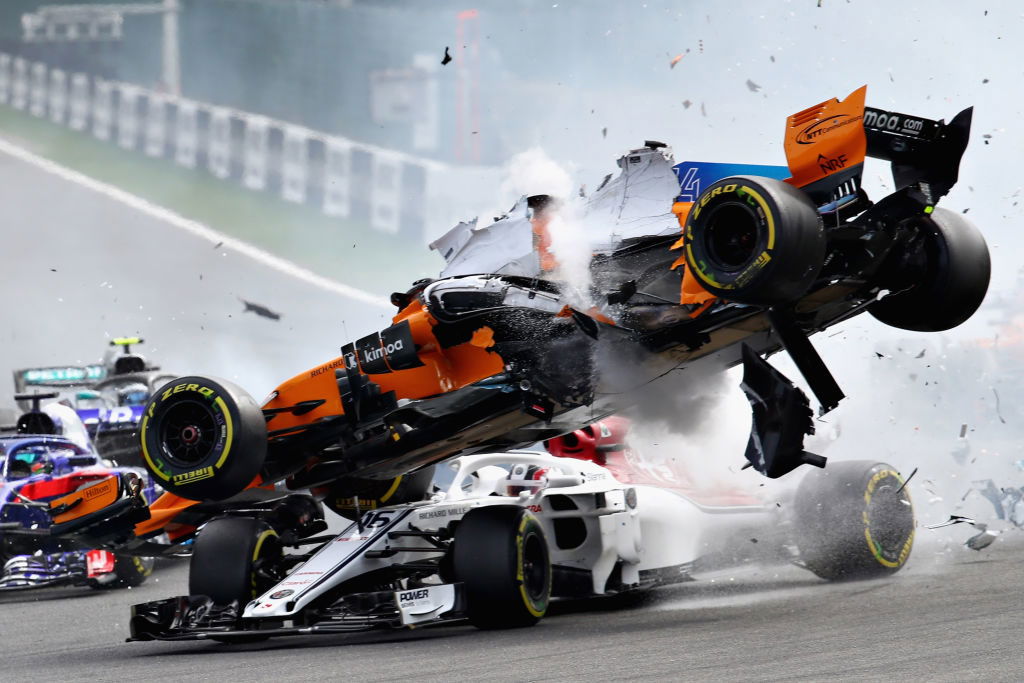 Fernando Alonso - 6
Qualified – 17th
Finished – DNF
Alonso outqualified Vandoorne by nearly 0.4s which was the highlight of an otherwise dismal weekend. This was McLaren's weakest showing of the season and even Alonso seemed powerless to hauling the MCL33 into a position of note. Of course, his airbourne accident at Turn 1 means that we will never know if he could have scored points but judging from the team's speed in practice, his chances were slim and none.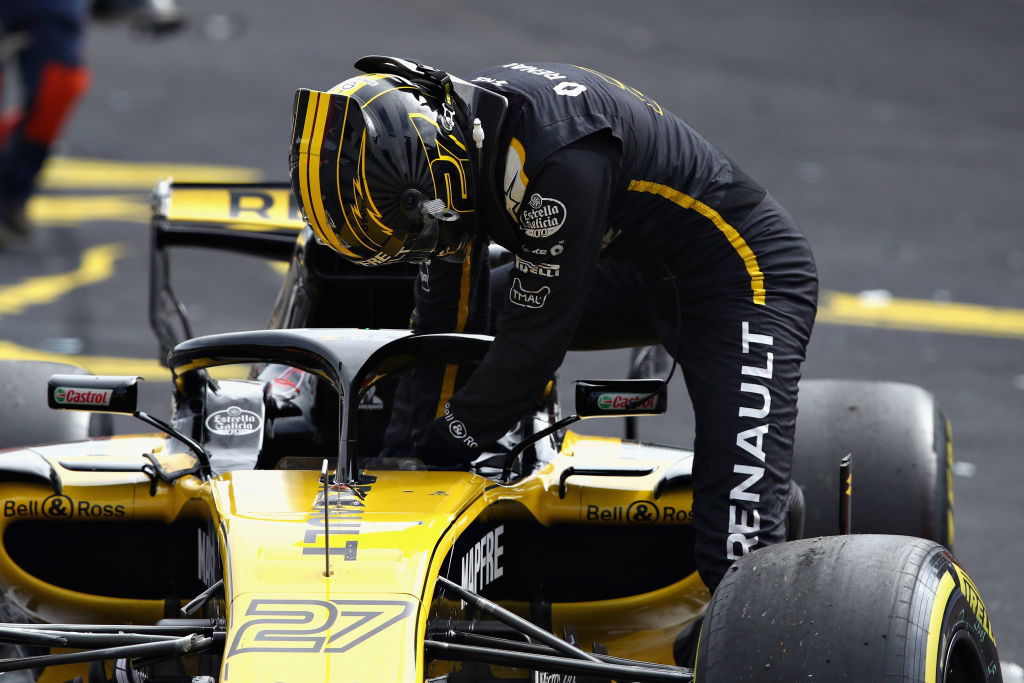 Nico Hulkenberg - 3
Qualified – 15th (started 18th)
Finished – DNF
It is not surprising that speculation arose of a potential brake-by-wire issue on Hulkenberg's car immediately prior to the accident – it was hard to believe a driver of Hulkenberg's calibre and experience could make such a rookie mistake at Turn 1. As it turned out, this was a case of driver error. Hulkenberg will want to forget the Belgian GP as quickly as possible, but the 10-place grid penalty for the Italian GP will ensure that the hangover lasts for at least a week.
---