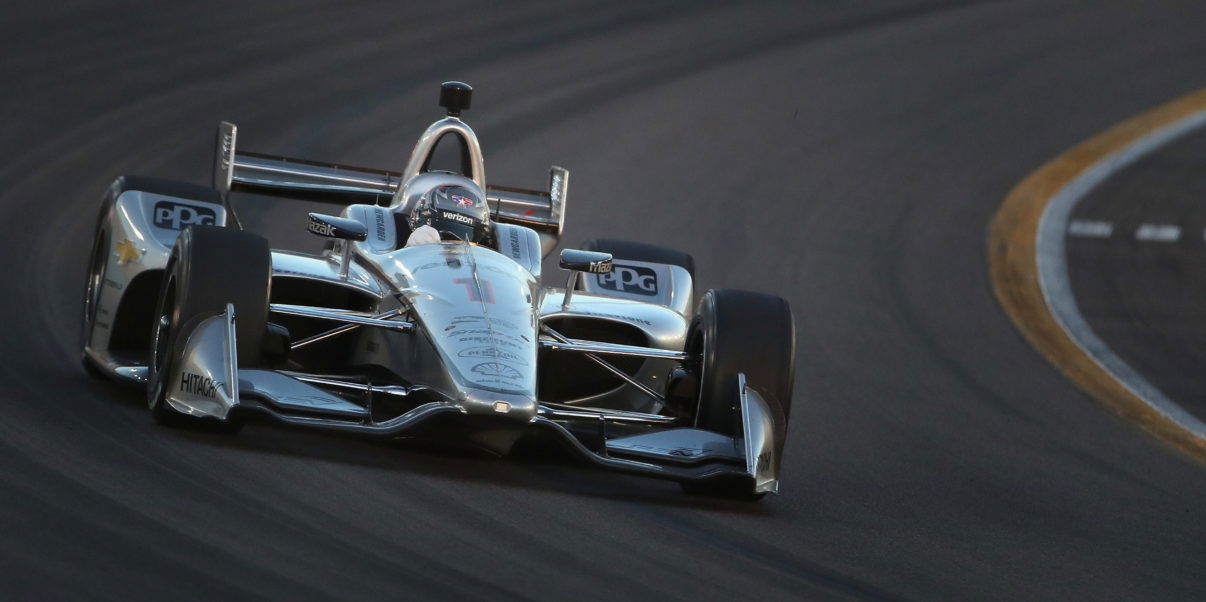 Newgarden wins Alabama, regains IndyCar Drivers' Points lead
Some drivers have a track where they can do no wrong, for Al Unser Jr. it was Long Beach, where Alexander Rossi took victory last weekend. Reigning IndyCar champion Josef Newgarden is making Barber Motorsports Park his track.
The 27-year-old took his first-ever IndyCar win at Barber in 2015. Then took his first victory of 2017 at Barber—the first of four wins en route to the title. Newgarden took his third Barber win in convincing, albeit delayed fashion on Monday, after the race was red-flagged on Sunday due to inclement weather.
The race resumed on Monday at 11 AM local time and Newgarden dominated the delayed race as well. After capturing pole on Saturday the Tennesee-native led 73 of the race's 82 laps due to the two-hour time limit. Dale Coyne Racing's Sebastien Bourdais led the other nine on pit laps.
The race on Monday featured rain as well, but not to the torrential extreme of Sunday. However, the weather still caused plenty of issues for drivers. Dale Coyne Racing's Zachary Claman DeMelo hit Andretti Autosport's Marco Andretti after setting the race's fastest lap due to the slippery conditions and an overzealous right foot. Team Penske's Simon Pagenaud took offence to Gabby Chavez of Harding Racing's impeding pace and confronted the 24-year-old Colombian after the race. Bourdais and Dixon had another moment together, not as jaw-dropping has the Frenchman's triple overtake in Long Beach over the New Zealander, but still crucial as Bourdais' pass of Dixon secured the Frenchman P5 for the race and vaulted the four-time IndyCar champion to third in the standings.
While Newgarden dominated at the front and drivers were squabbling in the midfield the Honda Indy Grand Prix of Alabama wasn't all racing and no fun (not that racing isn't) after the red-flag on Sunday Schmidt Peterson Motorsport's James Hinchcliffe who would eventually finish P3; admitted to 'using the facilities' in the cockpit which caused some humorous banter post-race between he and P2 finisher Ryan Hunter-Reay.
Twitter: Years into the future, when people are trying to figure out who deserves credit for the national phenomenon that is… https://t.co/i3E0YZFL7F (@jimayello)
Newgarden's dominating showing all weekend at Barber may have sealed his repeat chances as the four of the last winners at Barber have all won or have won the IndyCar title. More importantly, he regains the championship lead from Rossi who is now 13 points adrift.
The IndyCar Series now focuses in on Indianapolis Motor Speedway for the month of May. With the IndyCar Grand Prix acting as the appetizer to the main course, the 102nd Indianapolis 500.
Honda Indy Grand Prix of Alabama Race Results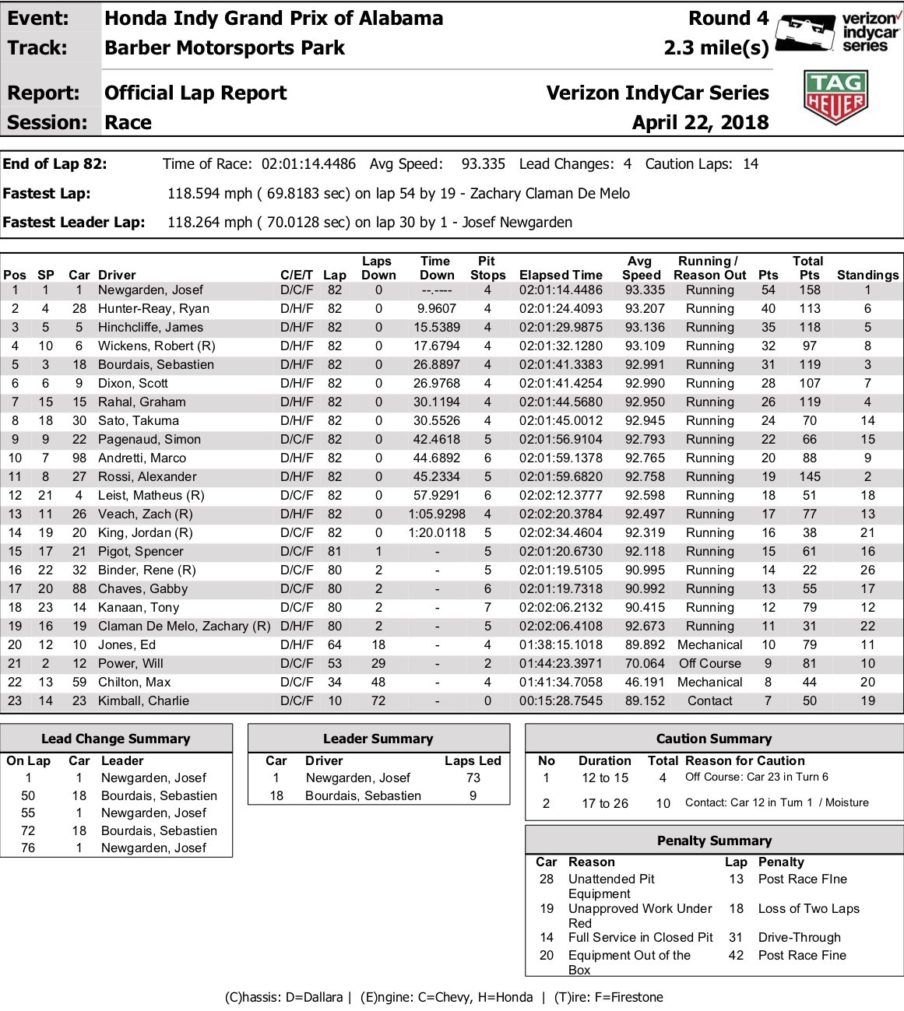 ---