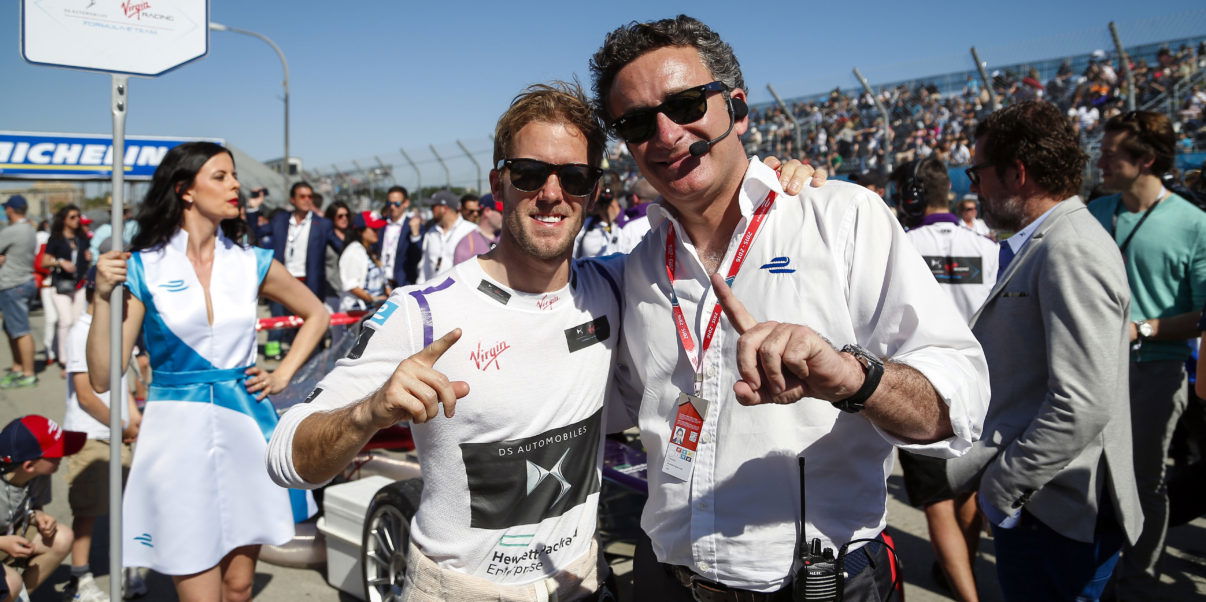 Bird leads the way with controversial lap
Sam Bird put his DS Virgin top of the timing sheets to close out practice 2 with a lap done under yellow flag conditions, though swears he backed off for the yellow flag.
With the track still green after a session which never got going due to da Costa crashing and then stopping out on track to bring out two red flags, we entered what was predicted to be a very busy session.
As expected, drivers poured out onto the track early on in practice 2 as both Renault e.dams drivers led the pack out onto the track.
Everyone that failed to put in a 200kw lap during the first session – which was everyone minus Lopez and Evans – put in an early qualifying sim and it was effectively last one across the line wins.
Despite not being the last one, di Grassi won the opening duel with a 1m09.0, followed by Buemi, Piquet, Frijns and Turvey, with Turvey clipping the wall but getting away with only light damage. His Brazilian teammate also got away with one when he clipped the wall at the chicane.
At the midway point of the session, Rosenqvist knocked everyone down a place with a 1m08.9, whilst Techeetah's Ma Qing Hua found himself twelfth and session one topper Jose Maria Lopez was all the way down in seventeenth.
We then had our first incident of the session as Loïc Duval lost his front left tyre after the nut just came loose, bringing out a full-course yellow, which then became a red flag.
With the red flag out and halting proceedings, there were five different manufacturers in the top ten and the top eleven were separated by only 0.8 seconds.
Five extra minutes were then added to the session due to the red flag and the stoppages in the first practice session, so drivers once again lined up at the end of the pit lane before the session went back to green with only eight minutes remaining.
Maro Engel pulled over almost instantly at the end of Turn One with issues, but not in the way of everyone so no flag was required this time.
200kw laps was the plan for everyone in the last six minutes of the session as qualifying was next, however, di  Grassi made hefty contact with the wall at Turn Four to bring out a yellow flag, halting everyone's 200kw laps.
Controversially, Sam Bird put his DS Virgin top of the timing sheets with a 1m08.7 with the yellow flag out, insisting he backed off for the yellow flag over team radio.
The same yellow flag closed out the session meaning there were no more notable improvements as Bird led the way with Rosenqvist, di Grassi, Buemi and Frijns rounding out the top five.
The top twelve was covered by just 0.9 seconds at the end of the session.
---